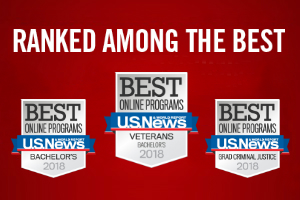 Like many universities, Colorado Technical University (CTU) strives to meet or exceed the academic standards set by accrediting agencies, professional associations, and industry organizations and publications. Historically, CTU has received awards for our educational programs, technology and commitment to military students. This year is no exception; 2018 sets a new record of excellence for CTU.
On January 9, 2018, CTU was ranked among the list of 2018 Best Online Programs by U.S. News & World Report. CTU earned a Best Online Bachelor's Programs ranking for a fourth consecutive year. Additionally, we were ranked for Best Online Bachelor's Programs for Veterans, Best Online Graduate Criminal Justice Programs (fourth year in a row), and Best Online Graduate Criminal Justice Programs for Veterans.
U.S. News & World Report, a globally respected organization and authority in education rankings, gathers data from colleges and universities on factors that weigh how programs are being delivered and their effectiveness at awarding affordable degrees in a reasonable amount of time.1
The Best Online Bachelor's Programs rankings, for example, are evaluated on four general categories of student engagement, student services and technology, faculty credentials and training, and peer reputation. Based on these factors, the institutions receive an overall score on a scale from 0 to 100 and are then ranked against other schools.1
"CTU is pleased to rank among U.S. News & World Report's Best Online Programs," said Andrew H. Hurst, University President. "We are proud to be mentioned again alongside other noteworthy colleges and universities striving to provide quality higher education to students."
CTU was also ranked for other U.S. News online education categories, including:
Best Online MBA Programs (third consecutive year)
Best Online Graduate Business Programs - Excluding MBA (third consecutive year)
Best Online Graduate Engineering Programs (first year)
Best Online Graduate Computer Information Technology Programs (fourth consecutive year)
Additional 2018 Recognition
CTU was also ranked on the Military Times Best: Colleges 2018 list. In the category of Online & Nontraditional Schools, CTU was named among the top 20 institutions. CTU received similar rankings from Military Times in 2016, 2014 and 2013.
Military Times' annual Best Colleges survey, formerly known as Best for Vets, is an editorially independent news project that evaluates numerous factors that help make colleges and universities a good fit for service members, veterans and their families. The rankings take into account the results of Military Times' annual comprehensive school-by-school assessment of veteran and military student services and rates of academic achievement. Over 218 online and nontraditional higher education institutions took part in the 2018 survey.2, 3
Giving Back to the Military Community
Over the years, CTU has provided numerous military education benefits and financial aid opportunities to our military student population, including:
Reduced tuition rates for Active Duty, Reserve and National Guard students
Transfer credit evaluation for qualifying military education or service experience
Financial aid advisors, admissions advisors and career coaches, specially-trained for the unique needs of military-affiliated students
Scholarship and grant opportunities for veterans and family members
Most notably, the CTU Patriot Scholarship (formerly the Wounded Warrior Scholarship) has awarded over $8.5 million in scholarships to wounded active duty service members, veterans, spouses and caregivers. Since 2008, a total of 500 full-tuition scholarships have been presented to deserving military-affiliated students.
Read more about the CTU Patriot Scholarship and our commitment to the military.
Over 50 Years and Counting
Founded in 1965, Colorado Technical University provides higher education to connect students to what matters most in reaching their professional goals. With more than 80 different undergraduate and graduate degree programs and concentrations taught by experienced faculty members, CTU strives to help on-campus, online, military and international students prepare for today's challenges and the hard-hitting problems of tomorrow.
Learn about CTU's other awards and recognitions.
---
1. "Methodology: Best Online Bachelor's Programs Rankings." U.S. News & World Report. Retrieved from: https://www.usnews.com/education/online-education/articles/bachelors-methodology (Visited 1/10/18).
2. "Military Times Announces the Military Times Best: Colleges 2018." Military Times. Retrieved from: https://bestforvets.militarytimes.com/2018-11-20/colleges/online-nontraditional/ (Visited 1/30/18).
3. "218 schools make Military Times: Best Colleges 2018 rankings." Military Times. Retrieved from: https://www.militarytimes.com/education-transition/rankings/2017/11/20/218-schools-make-military-times-best-colleges-2018-rankings/ (Visited 1/30/18).
1284574 1/18