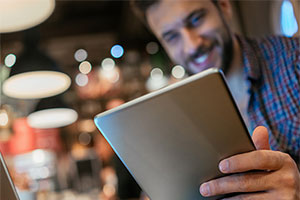 Did you know that millions of college students may qualify for Federal Student Aid, yet they don't even apply?1 FAFSA®, the Free Application for Federal Student Aid, which is administered by the U.S. Department of Education, is a form that college students fill out to apply for federal student aid.2 However, according to a postsecondary student aid study, students are choosing not to apply.1
Avoiding the FAFSA: Common Misconceptions
If you haven't filed a FAFSA yet, it may be because you feel you won't qualify for federal student aid or you think you won't be able to demonstrate financial need to qualify for financial assistance. However, completing the FAFSA is a significant part of the college application process and is used to determine your eligibility for federal student aid, external scholarships and grants, and institutional funds.1
Eligibility for federal grants and loans is based on financial need and is determined by the information provided on your FAFSA.1,2 Institutions may reference FAFSA information when determining financial need for awarding merit aid and/or scholarships, as well as other eligibility criteria.1
You may also think completing the FAFSA will force you to take out loans. This, however, is untrue. The FAFSA only shows you how much funding you may qualify for from the federal government.1 Whether or not you choose to borrow a loan is up to you.
What Are the Federal Student Aid Eligibility Requirements?
To qualify for FAFSA-based grants or loans, you must meet certain requirements that include, but are not limited to, the following:3
You must show a financial need.
You must be a U.S. citizen or an eligible noncitizen.
You must have a valid social security number.
You must be accepted or enrolled in an eligible degree or certificate program.
Again, don't let the first factor scare you! Your eligibility can only be determined if you apply. If you choose not to, you may fall into the category of students who didn't apply but may have qualified for financial assistance.
What to Expect When Filling Out the FAFSA
Before you fill out your FAFSA, you must first create an FSA ID. This is your own unique username and password, and it will serve as your electronic signature. If you are considered a dependent student, your parent(s) will also need to create an FSA ID. This information will be used each year you apply for federal aid.4
Getting Started
As you prepare to fill out your FAFSA, you may want to have certain information on hand to help the process go smoother. Examples of items that may help you to complete the FAFSA include:
CTU's FAFSA school codes are 010148 for online and Colorado Springs students or E00840 for Aurora campus students
Income tax returns or estimated income from the past one to two years
W-2 forms and other records of income earned from the past one to two years
Records of untaxed income
Current bank statements
Current mortgage information
Business and farm records
Records of investments
Student's driver's license
Social Security card or Alien Registration number
If you are a dependent student, you will also need your parent's Social Security numbers and tax information to complete the form.4 Once your FAFSA is submitted, you may not need to complete the full form again the following year. Instead, you may be able to follow the "Renewal FAFSA" process, which may allow you to reduce the time it will may take to complete your FAFSA for future award years.
Additionally, it is important to note that eligible students and parents are strongly encouraged to use the IRS Data Retrieval Tool (IRS DRT) to electronically transfer their federal tax information from the IRS to their FAFSA form.
Where Can I Get Help Filling Out My FAFSA?
An efficient way to complete your FAFSA is with one-on-one assistance or advising.1 As a CTU student, if you have questions about completing your documentation, you can contact your dedicated financial aid advisor directly through the CTU Mobile app or the Virtual Campus.
A checklist of documents needed to complete the FAFSA form is listed on the CTU Mobile app's Financial Aid section where you can track your document status. Keep in mind that there are deadlines for submitting a FAFSA.
Filling out the FAFSA is an important step in your educational journey. Check with your CTU financial aid advisor to determine your financial aid status or to help you plan an education budget!
---
1. Hodara, Michelle. "What does the research say about barriers to FAFSA completion and strategies to boost completion?" Education Northwest. Published January 17, 2017. Accessed October 17, 2018. https://educationnorthwest.org/sites/default/files/resources/FAFSA-research%20handout-jan2017.pdf
2. Greg Daugherty. "What Is FAFSA and Who Should Fill It Out?" Time, Inc. Published November 13, 2015. Accessed October 17, 2018. http://time.com/money/4108122/what-is-fafsa-and-who-should-fill-it-out/
3. "Basic Eligibility Criteria." Federal Student Aid. Accessed October 17, 2018. https://studentaid.ed.gov/sa/eligibility/basic-criteria
4. "Filling Out the FAFSA Form." Federal Student Aid. Accessed October 17, 2018. https://studentaid.ed.gov/sa/fafsa/filling-out