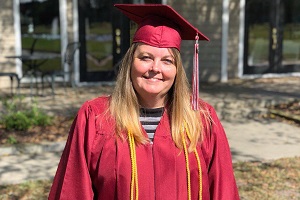 For over 15 years, Heather Brooks aspired to return to school. But, after submitting college applications and financial aid documents to a few institutions, Heather was told she would end up with a large amount of loans that could take decades to pay back.
As a single, working mother of three boys, extra expenses were out of the question. Heather put the needs of her children first, above all else. However, everything changed when she, a McDonald's employee, learned about the education alliance between the McDonald's Archways to Opportunity™ program and Colorado Technical University (CTU).
Overcoming Life's Obstacles
To help make pursuing a degree financially achievable, McDonald's USA, LLC and CTU partnered together to create the CTU Program for McDonald's Students. This program offers McDonald's students the opportunity to earn college credit for their Hamburger University® training and pursue a degree with as little as $0 out-of-pocket. With the help of her Archways coach and a CTU financial aid advisor, Heather applied to a bachelor's degree program at Colorado Technical University (CTU).
Heather was ecstatic when she received the news: "The day that my financial aid advisor called me, I remember very vividly. I fell to my knees in tears when he said I could attend college with no out-of-pocket expense! It doesn't get any better than that!"
Though the financial barriers were out of the way, Heather received other news that was less than favorable. At the start of her journey with CTU, Heather was diagnosed with melanoma for the second time in her life. Then, in 2017, she had knee surgery. Heather continued to push forward despite these setbacks, and her CTU instructors and advisors offered the time and assistance she needed to help her complete her assignments.
In October 2018, Heather graduated from CTU with a Bachelor of Science in Business Administration (BSBA) degree and was promoted to Director of HR and Training within her franchisee company.
From her experience, Heather was able to share some advice for other students looking to pursue a degree while going through tough times: Surround yourself with those that will support you. "I truly feel that if it wasn't for the support that I received, I would have struggled. It is possible to balance a job, a family, maintain a household and obtain a degree with focus, planning, and support!"
About the CTU Program for McDonald's Students
CTU is dedicated to helping make college affordable, flexible and relevant. Qualifying McDonald's students receive a 43% tuition grant that applies to many areas of study – over 95 online degree programs and concentrations – as well as a complimentary laptop and for those that are eligible, an additional grant of up to $3,000. CTU graduation and technology fees are also waived.
Students can attend classes 100% online and have 24/7 access to the Virtual Campus. Additionally, CTU offers personalized learning technology to help control what, how, and where students learn. Faculty with real-world experience teach industry-focused curriculum, and CTU's business degree programs are ACBSP accredited.
If you are a McDonald's student like Heather was, then you may be eligible to transfer select Hamburger University courses for credit to help reduce the time and investment required to complete a degree with CTU. Additionally, if you have taken mid-management or manager training courses from Hamburger University, you may be able to receive credits to complete your degree faster. You may also be eligible to earn credit for prior knowledge by passing CTU Fast Track™ exams.
If you would like to see how many credits your Hamburger University courses are worth, request an HU transcript through the Archways to Opportunity website and email it to McDonaldsPLA@coloradotech.edu. A CTU Prior Learning Assessment (PLA) evaluator will review your HU transcript, work experience, and prior college credit (if applicable) to see if any credit can be applied towards a degree program at CTU.
Pursue Your Education with McDonald's and CTU
Earning a college degree for as little as $0 out-of-pocket tuition costs is possible and may be easier than you think!
Learn more about the CTU Program for McDonald's Students.
---