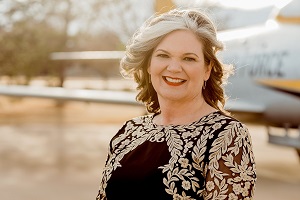 CTU alumna Kristen Christy is no stranger to the military. Her father was a veteran, and her mother was not only a military spouse but also a positive role model in Kristen's life. She grew up thinking she'd eventually join the military herself, but an unfortunate stroke in high school prevented her from doing so. Kristen ended up at the University of Texas, where she got involved with the school's ROTC Angel Flight program and met her first husband, Don. Little did she know that this relationship would change her life's trajectory forever.
Don, who served 18 years in the military, passed away by suicide in 2008. Kristen and her two sons went from a life of comfort to one of hardship. Everything changed drastically for her small family, and there are still questions that remain unanswered. However, Kristen pushed forward despite her unfortunate circumstances and committed to educating others through Don's memory.
Kristen was recently named as the 2018 Armed Forces Insurance (AFI) Air Force Spouse of the Year, a lead-in nomination for the overall AFI Military Spouse of the Year (MSOY) honor which will be announced on May 10, 2018. She truly believes in the power of community and remains dedicated to her military roots. What has Kristen learned about being affiliated with the military for so long? "Fisher DeBerry, the former, legendary head football coach of the Air Force football team, had a phrase. 'If you see a turtle on the top of a fence post, that turtle did not get there by himself.' And that's the way life is! We don't get anywhere by ourselves. We all have support; it takes a village." More than a million military spouses support and maintain the home front while their service members defend the nation.1 The AFI MSOY award was founded by Military Magazine in 2008 to honor these spouses from all branches of service.1
Kristen was previously named among the 2014 Women of Influence by the Colorado Springs Business Journal and became involved with the leadership program and non-profit organization Leadership Pikes Peak—both local to Colorado Springs where she has resided since 1995.2 She has also served on the boards of the American Heart Association and the American Stroke Association, the Council of Neighbors and Organizations (CONO), President of the local chapter of Air Force Association, and Vice Chair of the Military Affairs Council—among many other volunteer, leadership and service activities.3
Military-Supportive Education
Kristen first came across Colorado Technical University (CTU) because of the school's involvement in the military. "I realized that I couldn't save the world, but my passion was military—and CTU is so ingrained in the military community here, that it helped me find my focus," she shared. It had been 27 years post-college when she first learned that her employer offered an educational assistance program. Filled with back-to-school jitters, she quickly connected with her admissions advisor, and after many long chats decided to "jump in with two feet."
Kristen set out to pursue her master's in business administration (MBA) and found the program beneficial. She felt that CTU's MBA program provided the right mix of project management and marketing courses—both relevant to her current position in the defense industry. Despite her previous struggles and demanding work schedule, she powered through and proudly graduated in November 2017 with her MBA. "I'm a proposal manager for a defense contractor, and we never know ahead of time when proposals come out. So, sometimes I had 20 to 23 hour days working proposals, going to school, and traveling, but CTU helped me make it work." Kristen's "new groom" of four years, Tech Sgt. Sean Lange of the Air Force Reserve was there for her throughout her journey. "Life happens. Getting a degree from CTU wasn't easy, but it was doable. I knew what I needed to do. I knew it was going to be hard work. And above all, I knew I had my husband's support."
An extrovert by nature, Kristen enjoyed connecting with classmates and yearned for that in-class experience. Initially, she attended her courses on-campus, but once work travel became more frequent, Kristen dove into CTU's online classes. "I liked the online chats and how accessible my professors, success coach and other students were. It didn't matter where they were—the culture of CTU just made sure that we were all comfortable and accessible," she shared. Kristen's advisors, friends and husband provided her with a combination of inspiration and motivation that she needed to keep her moving forward towards graduation. "Inspiration is the pull. My success coach and my husband inspired me to take the first step. Motivation is the push. I knew that I could do the classes, but when I was either tired or grumpy, my support system swooped in to keep me motivated. It was the inspiration that got me into CTU and the motivation that got me through it."
Above all, Kristen learned a great deal and made life-long friends in the process. For example, her marketing courses taught her to think differently in terms of return on investment (ROI). "I'll admit that before when I thought of ROI, I only thought dollars. And now I see that it also translates to people, and time—it provides me with a better view of potential projects that we take on at work." Also, project management courses assist Kristen maintain her efficiency inside and outside the classroom. "It helped me streamline things at home and forced me to be more thoughtful about how I chose to spend my time. I learned how to manage my time better in everyday life."
Sharing Lessons Learned
Kristen took her new skills, applied them to her true passions rooted in service, and asked a profound question: "Military or not, how can we used what we've learned through our experiences to help other people?" Kristen's primary platform focuses on suicide prevention and its everlasting effect on children and families as well as license reciprocity across states for civilian and military spouses. Kristen's goals are simple—to reach more people and spread hope. She'd like for other people to use her family's hindsight, as their foresight—to understand that suicide does not end pain. "It may end their pain, but not the pain that's left behind, especially for their children and families—it's forever. A few years ago, research showed that the average person has 150 people within their sphere of influence, which means that if one person dies, it will affect 150 people for the rest of their lives.4 My children will never be the same. Suicide is not a palatable subject, but silence does us no good. Silence does not save lives."
Ultimately, Kristen feels truly blessed by all the opportunities she's been afforded. "Life is a tough teacher. Sometimes we get the test first and then learn the lesson. We can't always be there to help those in need get through the test or pop quiz, but we can certainly be there to tutor them through the lesson. And that's what I want to do in life." Kristen reminds us that we are all survivors of something. She is working on an executive order to launch a national day for survivors on March 4th, "It's perseverance in the face of adversity because we 'march forth and conquer.'" She continues to put one foot in front of the other every day to provide hope for the military as a whole as well as her community in Colorado Springs.
---
1. "Military Spouse: About the Event." Military Spouse. Updated 2018. Accessed April 2, 2018. https://msoy.militaryspouse.com/military-spouse-of-the-year/
2. Baillie, Amber. "2014 Women of Influence: Kristen Christy." The Colorado Springs Business Journal. Published November 11, 2014. Accessed April 2, 2018. https://www.csbj.com/2014/11/11/2014-women-influence-kristen-christy/
3. "Military Spouse: Kristen Christy." Military Spouse. Updated 2018. Accessed April 2, 2018. https://msoy.militaryspouse.com/contestants/kristen-christy/
4. "Calling Dunbar's Numbers." Cornell University Library. Published April 8, 2016. Accessed April 12, 2018. https://arxiv.org/abs/1604.02400
5. Photo courtesy of Randy + Ashley Studios.