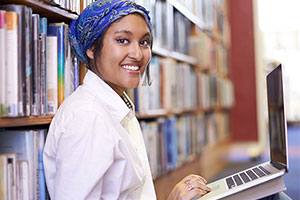 Whether you are a new or returning student, the first few weeks or months of classes may be an adjustment. However, there are steps you can take at the start of the term that may help you keep up with schoolwork and your personal life.
Submit your financial aid paperwork on time.
If you need help paying for school, as many students do, submitting your Free Application for Federal Student Aid (FAFSA) on time can be a good way to get started. The FAFSA website has tools to help you understand how to apply, options for filing, and what to do when school is over and it's time to start repaying your loans.1 Checking off the "FAFSA application" item on your list is a great first step to starting your education.
Join a study group or create your own.
Participating in a study group can be an excellent way to enhance what you've already learned in class and find support among your classmates. You may gain a new perspective on your coursework from hearing someone else's opinion or get an answer that you didn't during class. If there are no study groups available, create your own with online meet up tools to see classmates "in person." If you and your classmates are in different time zones or don't have a way to meet in a central location, use a voice or video chat software to hold a discussion.
Set up a plan to manage your time.
Whether you're going back to school after years of working or enrolling for the very first time, starting school can affect your daily schedule and how you manage your time. Time management tools like an online calendar or list app can help you stay on track with your classroom syllabus and personal life. These tools (which are usually available at no cost) can sync up between your devices and can provide notifications to help you stay on top of your personal life and your schoolwork. By setting reminders for errands like, "take clothes to dry cleaners on Wednesday," and assignments such as, "read chapter 5-7 for class at 3 p.m.," you can help stay on track with your schoolwork and everyday life.
Create a budget.
Online financial planning tools may help you budget your money. Your schedule is shifting and how you spend your money might change too. With a new course load, you'll probably need to make some purchases such as books, school supplies or a desk. Having budgeting resources now may also help you manage and repay your student loans later.
Use a paper or printed calendar to help you see the bigger picture.
For some people, receiving digital notifications to pay a bill or to set time aside to study can be helpful for important appointment reminders. But for others, too many notifications can be overwhelming. If you want to stay organized but don't like the distraction of mobile or desktop notifications, consider using a traditional planner. Many planners have monthly overview pages where you can view the entire month ahead. To see at a glance when important deadlines are nearing, be sure to write down when you'll have due dates, exams and bill pay dates on this monthly overview.
Establish healthy habits and find ways to manage stress.
Incorporating healthy habits into your routine may help you stay focused on your schoolwork and manage any stress that may arise while adjusting to a new course load. Applying good behaviors now may make it easier to keep them going later, especially when you're deeper into your studies. Getting enough sleep, exercising regularly and developing healthy eating habits may help you manage stress and help you study better.2 Walking briskly before you read or study can contribute to improving memorization and other essential brain functions.3 Meditation and yoga are also methods to reduce stress and stay focused.4

There are plenty of ways to stay organized and help you adjust to a new schedule, a new budget and a new school session. Do what works for you to help stay on top of it all this year.

1. FAFSA Help." Federal Student Aid. Accessed July 01, 2017. https://fafsa.ed.gov/help.htm.
2. Bellows, Amy. "Healthy Study Habits for Students." Psych Central. Last modified May 17, 2016. Accessed June 27, 2017. https://psychcentral.com/lib/healthy-study-habits-for-students/.
3. Schmidt-Kassow, Maren and Nadine Zink. "Treadmill walking during vocabulary encoding improves verbal long-term memory." Behavioral and Brain Functions. Last modified July 12, 2014. Accessed June 27, 2017. https://www.ncbi.nlm.nih.gov/pmc/articles/PMC4114134/.
4. Mayo Clinic Staff. "Meditation: A simple, fast way to reduce stress." Mayo Clinic. Last modified April 19, 2017. Accessed June 28, 2017. http://www.mayoclinic.org/tests-procedures/meditation/in-depth/meditation/art-20045858.

1215609 9/17