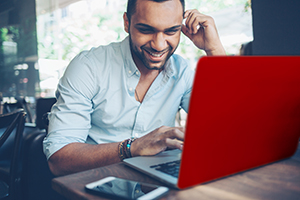 For some students, online learning and distance education courses are relatively new concepts. It can be hard to separate the myths and misconceptions from the facts about online education. Recently, Colorado Technical University Student Success Coach Bill Priestley shared three myths he hears often from students about online learning and online degree programs.
Myth: Online courses should be easier.
According to CTU's Bill Priestley online courses are, "quite the opposite, not only is the curriculum still covering relatively the same ground you [also] have to push yourself to keep accountable." He notes that "convenience and ease are two wildly different things." Students should not assume that the learning objectives and curriculum demands of online learning courses are easier than face-to-face courses. In fact, in a report issued by the Online Learning Consortium, 2015 Online Report Card - Tracking Online Education in the United States, based on a survey conducted by the Babson Survey Research Group and its partners, one of the key findings showed that "the percent of academic leaders rating the learning outcomes in online education as the same or superior to those in face-to-face instruction is now at 71.4%."1
For eligible college and universities that participate in U.S. federal student aid programs and offer online education, the U.S. Department of Education requires those schools to be accredited. For accreditation, a school "must be accredited by a 'nationally recognized' accreditor (or, for certain vocational institutions, approved by a recognized state approval agency), be authorized by the state in which the institution is located, and receive approval from the Department through a program participation agreement."2 While it might be more convenient to complete your degree online because of work, lifestyle, childcare, health and other circumstances, students should also expect the same curriculum, academic rigor and learning demands of campus-based, face-to-face courses.
Myth: Resources for students taking online courses are limited.
When considering enrolling in an online degree program or taking an online course, some "people are afraid that with online learning they'll have less resources at their disposal," said Priestley. Based on his experience, he believes that is not the case, "[CTU's] academic and support staffs both have requirements to respond to students within 48 hours, something I wish they had at the school I attended when I was a student!" Quickly responding to student needs and connecting them to available resources are two ways universities like CTU can help support students taking online courses. Also, universities may offer online environments like CTU's Virtual Classroom, which includes features that allow students to access lectures and course materials, interact with instructors and classmates, and track assignments and grades.
Myth: The student experience just isn't the same.
The university community and student experience is important for most prospective and/or enrolled students. According to Priestley, "Students also feel like they won't have the same peer experience as if they were to attend [on] campus. While it is different that does not mean [the student experience] is worse or nonexistent, many students become email buddies with classmates long after the class is over." As the number of students enrolled in online courses keeps growing, more than one in four students (28 percent) are enrolled in at least one distance education course,2 universities and colleges continue to develop student-focused tools and resources to help students connect with each other and their instructors. For example, CTU developed its mobile app, CTU Mobile, to help students stay connected to their course progress and classmates when on the go. With the mobile app, enrolled CTU students can participate in live chats, review and respond to discussion board posts, and contact their instructors or university support teams.
It can be difficult to separate the myths from the facts about online education when seeking advice from family, friends and colleagues. Hopefully, by taking a closer look at some of these commonly heard myths, you can better determine if pursuing your educational goals at a university that offers online courses and online degree programs is right for you. Also, U.S. News & World Report offers annual rankings and named five Colorado Technical University online degree programs to its 2017 Best Online Programs lists:3
Learn more about CTU's online degree programs.
---
1. Online Learning Consortium. (2016, February 9) Babson Study: Distance Education Enrollment Growth Continues. Online Learning Consortium. Retrieved April 5, 2017 from https://onlinelearningconsortium.org//news_item/babson-study-distance-education-enrollment-growth-continues-2
2. U.S. Department of Education. Overview of Accreditation in the United States. Retrieved April 25, 2017 from https://www2.ed.gov/admins/finaid/accred/accreditation.html#Overview
3. U.S. News & World Report. 2017 Online Education: Colorado Technical University, Online Programs. Retrieved April 5, 2017 from https://www.usnews.com/education/online-education/colorado-technical-university-126827/rankings