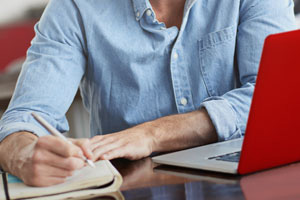 The American Psychological Association (APA) style is the current standard for academic writing across many academic disciplines. Whether you're studying the fields of nursing, project management or IT, as a student you need to develop a familiarity with APA formatting standards for both engaging with course materials and writing in an academic style. At Colorado Technical University, writing in the APA style is a core principal of our Originality Policy, which ensures that every student produces original work while encouraging them to engage with the ideas of experts in their chosen field. At its core, the APA style helps students to present ideas in a consistent manner so they are easier to share with others. APA style also provides a clear format for incorporating a range of outside sources in an honest way.1 What follows is a set of guidelines for general APA formatting, in-text citations and creating a reference page.
General Formatting
APA style starts with the basics for how an essay should look. Many of these rules should be familiar to anyone who is familiar with Microsoft Word or Google Docs. Essays written in the APA style should be typed, double-spaced with a 1" margin on all sides. You should also use a 12 pt. font that is easy to read, like Arial or Times New Roman. Academic essays should also include a title page and abstract before the main body. The title page should be centered, and include the title, author's name and university affiliation on three separate lines:
An Effective Approach to Network Security for Small Businesses
Richard Router
Colorado Technical University
The abstract page should include a 150 to 250 word summary of the essay. According to the Purdue Online Writing Lab, an abstract might include "your research topic, research questions, participants, methods, results, data analysis, and conclusions" (Angeli et al., 2010)2. Here's an example:
In recent years, new communication technologies have changed the way many companies do business, but they have also created a demand for new, innovative approaches to network security. In this essay, I consider three of the most popular network security protocols and attempt to determine which is best for small businesses. In addition to interviews with several small business owners in the tech industry, I have also designed and conducted a series of network stress tests to determine which approach is most secure. This essay presents both my data analysis and anecdotal evidence to show that "The Router Protocol" is the most effective network security approach for businesses with less than 20 employees.
In-Text Citations
When you work on an academic paper, you may incorporate research. Citations make it easier to link multiple voices so that everyone gets proper credit for their ideas. Whether you're referencing an academic article, a movie quote or a website, APA style makes it easy to cite the author or creator within the text.3 Essentially, every time you cite an outside source, you need to include the author's last name, year of publication and page number within the text. Let's say you're writing an essay for your Criminal Studies class and you want to cite a quote from a book titled "Basic Forensics" that was written in 2015 by Sally Smith. Here are two ways you can use APA style to properly cite your source:
According to Smith (2015), "forensics relies on scientific tests and methods to solve crimes (p.15).
She explains that "forensics relies on scientific tests and methods to solve crimes" (Basic Forensics, 2015, p.15).
Note that the reference in parenthesis is always outside of the quotation marks. If you have two or more authors, you need to include the last name of each of them the first time you reference their text:
(Anderson, Morgan & Smith, 2015)
After that you only need to include the first one alphabetically and the signal phrase "et al." which informs your reader that there are additional authors.
(Anderson et al., 2015)
When citing an electronic source without an author or publication date, use the first few words of the title instead to link the source to your reference page, and use the abbreviation "n.d." in pace of a date:
The article suggested that forensics uses scientific principles to solve crimes ("Defining Forensics," n.d.).
Reference Page
In-text citations are important because they connect the reader to your reference page, where they can find complete information about each source. There are a few basic formatting requirements for a reference page:
Make sure each line after the first is indented one-half inch from the left margin.
Each entry starts with the author's name with the last name first.
The entries should be listed alphabetically by last name.
If you're using multiple texts by the same author, list those chronologically.
The titles of shorter works, like articles, chapters or websites, should appear in parenthesis, while books, magazines and academic journals need to be italicized.
Here are three examples for writing references for three of the more common types of academic sources: books, periodicals and websites.
Last Name, First. (Year of publication). Title of Work. Location: Publisher.
Periodicals
Last Name, First. (Year, Month Day). "Article Title". Name of Periodical, Issue, Page.
Last name, First. (Date of publication). Title of article. Title of Online Periodical, volume number(issue number if available). Retrieved from http://www.webaddress.com/full/url/
Just like in-text citations, every type of source has slightly different rules for how to write the reference, and you should consult the OWL Resource Page or your APA handbook for specialized sources. It isn't necessary to memorize the reference formatting for every possible source type. What is important is that you start to integrate the APA style into your normal writing routine. With a little practice, planning and patience, integrating outside sources into your academic essays will start to feel like second nature.
---
1. University, P. (2011, July 01). Acknowledging Your Sources - Academic Integrity at Princeton University. https://www.princeton.edu/pr/pub/integrity/pages/sources/ (Visited May 03, 2017)
2. Angeli, E., Wagner, J., Lawrick, E., Moore, K., Anderson, M., Soderlund, L., & Brizee, A. (2010, May 5). Visited May 03, 2017, General format. Retrieved from https://owl.purdue.edu/owl/research_and_citation/apa_style/apa_formatting_and_style_guide/general_format.html
3. Welcome to the Purdue OWL. (2010, May 5). Visited May 03, 2017, from https://owl.purdue.edu/owl/research_and_citation/apa_style/apa_formatting_and_style_guide/in_text_citations_the_basics.html