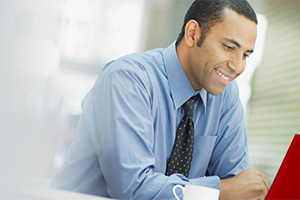 What can your employer see on your Facebook profile? What can anyone see? Consider these tips when it comes to keeping your Facebook and other social media profiles professional.
Why Should I Be Concerned?
Did you know that that approximately 75% of employers check out job applicants online?1 If you post something online, there's a chance that anyone can see it, whether it's on social media, a blog, a forum, or anywhere else. So while it can be tempting to share photos of a fun night out or express controversial opinions online, it's also important to consider the potential implications. Pictures of drinking and the like have the potential to color an employer's opinions of you — and potentially lead to a lack of interest on their part.
There are even some instances where employers have asked for the Facebook login credentials of applicants.2 While the legality of this practice varies by state and is often disputed,3 it goes to show you that anything you post online has the potential to be seen by an employer or potential employer.
Be Careful What You Post
Since what you post has the potential to be seen by the public, it is important to be careful about what you post on social media. Even if you post something privately and your employer doesn't have access to your login credentials, it's possible that a friend or loved one could publicly share one of your posts — and your name with it. Take a moment to think about what you are posting before you publish.
Use Privacy Settings
Privacy settings aren't foolproof but it's better than nothing, and using them is a good idea if you are very active on social media. Privacy settings help you take control of who sees the things you post. Fortunately, Facebook provides a variety of tools to help you limit the exposure of your information. Some of these tools include:
Timeline Review: This allows you to control your Facebook Timeline by requiring you to approve any posts in which you're tagged. You can access these settings by going to Settings > Timeline and Tagging > Review posts friends tag you in before they appear on your Timeline > Edit.4
Restrict Your Audience: Facebook allows you to restrict who can see individual posts; you can make posts public, make them visible only to friends, or create a custom filter to keep specific individuals from seeing a given post.5
Privacy Checkup: Privacy Checkup is a quick and easy way to review and adjust all of your privacy settings. To access this tool, click the lock icon at the top of your Facebook page and then select Privacy Checkup.6
It Comes Down to This: Be a Professional
If you're ever in a situation where something inappropriate makes it to your boss and could affect your job, then you need to go beyond Facebook tips — you need to approach the situation professionally. Be honest and up front about the circumstances. Be calm, collected, and reasonable — clear the air and move on.
When it comes to keeping things professional online, the most important Facebook tips boil down to being careful about what you post and taking advantage of privacy settings. How exactly you approach your online persona is entirely up to you — but, just like in real life, it's a good idea to maintain a certain level of professionalism.
Find out more about how to protect yourself with it comes to social media. Also read about how to use social media as motivation.
---
1. Nolo, "Can Potential Employers Check Your Facebook Page," on the internet at http://www.nolo.com/legal-encyclopedia/can-potential-employers-check-your-facebook-page.html (viewed January 12, 2016)
2. Facebook, Help Center, "How can I control what potential employers can find about me on Facebook?" on the internet at https://www.facebook.com/help/282207828490074 (viewed January 12, 2016)
3. Nolo, "Can Potential Employers Check Your Facebook Page," on the internet at http://www.nolo.com/legal-encyclopedia/can-potential-employers-check-your-facebook-page.html (viewed January 12, 2016)
4. Facebook, Help Center, "What is Timeline review? How do I turn Timeline review on?" on the internet at https://www.facebook.com/help/168229546579373 (viewed January 12, 2016)
5. Facebook, Help Center, "Choose who you share with," on the internet at https://www.facebook.com/help/459934584025324/ (viewed January 12, 2016)
6. Facebook, Help Center, "What is Privacy Checkup and how can I find it?" on the internet at https://www.facebook.com/help/443357099140264 (viewed January 12, 2016)