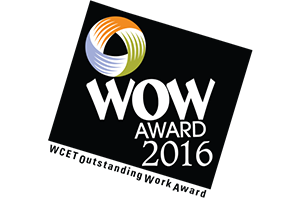 In September, the WICHE Cooperative for Educational Technologies (WCET) named Colorado Technical University as an awardee for its CTU Mobile app, a higher education app designed for enrolled CTU students. Other 2016 awardees include California State University, Northridge; University of Central Oklahoma; University of Hawaiʻi System; and Western Governors University. On October 12, 2016, Colorado Technical University representatives accepted the 2016 the WCET Outstanding Work (WOW) award at the WCET 28th Annual Meeting in Minneapolis, Minnesota.
"We are proud to have our work in mobile higher education recognized by WCET and be among the 2016 WOW award recipients highlighted for their dedication to innovation and student success in higher education," said CTU President Andrew Hurst. "The development and support for CTU Mobile continues to be a multi-department effort, and I thank all of our staff for their contributions to ensuring CTU Mobile's success. The app truly represents CTU's mission in action," he added.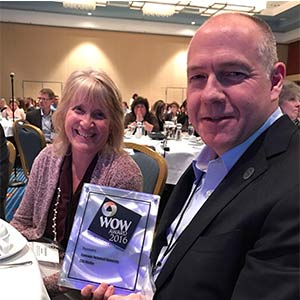 This year's award recipients all have developed and implemented innovative, technology-based solutions that help transform the college learning experience and impact student success. CTU Mobile offers students access to a personalized learning experience on the go. The university designed the app around the student experience, focusing on key features and functionality that can impact student success. Focus groups with students and other cross-functional stakeholders, in addition to reviews of other 'best in class' mobile apps beyond higher education, helped shape the app and inspire user-centric mobile experiences.
"The WOW Awards committee was impressed by the important challenges in higher education addressed by the 26 projects that we reviewed," said Kara Monroe, Vice President for Academic Innovation and Support at Ivy Tech Community College, and chair of the WOW Awards committee. "These five award recipients certainly represent game-changing opportunities for the students, faculty and institutions."
CTU Mobile offers students a personalized, anywhere anytime learning experience:
Students have the ability to play live or archived lectures, read and respond to online discussion board posts, and submit individual projects via the cloud.
In response to a high demand, students now receive real-time notifications, time management tools, quick access to university contacts, and degree progress bars for motivation.
Essential classroom features are paired with grade notifications, assignment due dates, class announcements, reminders, and more.
Students can also organize tasks and assignments by day and week to better plan their time, add to-dos to their personal calendar, and contact their instructors or CTU staff members with one tap in the app.
For motivation, students can see their degree progress and key milestones, plus daily motivational messages from alumni and faculty.
CTU Mobile is available to enrolled, online and campus-based CTU students and supported on both Android and iOS mobile devices.
Read more about CTU Mobile at http://www.coloradotech.edu/admissions/ctu-mobile
Image (left): CTU President Andrew Hurst and CTU Provost and Chief Academic Officer Dr. Connie Johnson
Image (right): Melissa Balsan, CTU Vice President of Marketing, joined CTU President Hurst and Dr. Johnson for the awards ceremony