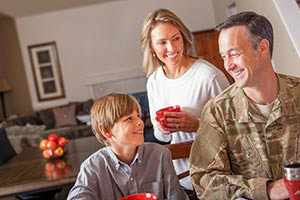 The point of a cover letter, whether you're active duty, a veteran, or a civilian, is the same: to pique the interest of a human resources professional or hiring manager enough to call you for an interview.
If you have a military background, keep in mind that the people viewing your cover letter and resume may not be familiar with how your military experience aligns
Reassess Yourself With a Civilian Eye
Before you start writing your cover letter, it's a good idea to evaluate what you have to offer a civilian organization.
What skills, experiences, and training did you gain in your military career that can benefit the company you're interested in? Take a few minutes to write these attributes down. Use civilian terms instead of military words and phrases. Categorize your qualities into technical skills, leadership experience, goal-setting abilities, etc. Look at the job description for the position you're interested in and match up your experience with the job qualifications.
Once you've defined why you're a good fit for the position, you can start writing the cover letter.
Tips for Writing a Cover Letter That Gets Noticed
Based on feedback from employers, here are some helpful suggestions from CareerBuilder.com about how to write a cover letter that will get noticed1:
Use a standard business letter format: If you know the name of the person who will be reading your cover letter, make sure you address the letter directly to them. If you don't know the name, "To Whom It May Concern" is acceptable.
Write a clear and direct opening sentence: State the job you're applying for, where you saw the position advertised, and a few words about yourself: "I'm applying for the project manager position that was advertised in the Daily News and I'm confident my skills and abilities are a great fit for this role."
Demonstrate your knowledge of the company: State a fact or observation about the company that isn't common knowledge. This shows you did your homework about the position. If possible, tie it to your work experience or skill set.
Describe why you're interested in the position and back it up with your qualifications: Pick one or two of the required qualifications from the job description and offer several concrete examples of how your experience is a perfect fit for their needs. Be specific: "I oversaw a team of five IT professionals using ABC Software to monitor the security of our computer systems, which is similar to the XYZ Software your IT team uses."
Have someone review your cover letter before you send it: It's always a good idea to get a second set of eyes on your cover letter to catch typos or mistakes in grammar. Also, if you addressed the cover letter to a specific person, make sure the name is spelled correctly.
Close the letter: End the letter with Sincerely, Sincerely Yours, Yours Truly, or Cordially.
In addition to the above, GIJobs.com recommends that you show how you can be the solution to the company's problems with specific examples of how your military skills may transfer to the civilian workforce. Think about referring to your experience this way: "I know how to deal with increased task loads (such as patrols or intelligence reports); how to develop new capabilities (perhaps in response to a mission change); and how to get stuff safely and quickly from one point to another." Showing how your military experience translates directly into the duties of a civilian position will help define how you can benefit a civilian company.
Overall, when writing your cover letter, remember to speak in civilian terms, talk directly about what you can do for the company, and remember to include your contact information at the end of the letter.
Finished with your cover letter? Here are some tips to spruce up your resume. Find out more about Career Development at CTU.
---
1. CareerBuilder. 2014, July 10. Employers give tips on how to write a great cover letter. Message posted to http://advice.careerbuilder.com/posts/employers-give-tips-on-how-to-write-a-great-cover-letter. Visited January 7, 2016.
2. G.I. Jobs. 2015, June 8. Four ways to make your military to civilian cover letter irresistible. http://www.gijobs.com/military-to-civilian-resume-cover-letter/?utm_content=bufferca13b&utm_medium=social&utm_source=linkedin.com&utm_campaign=buffer. Visited January 7, 2016.