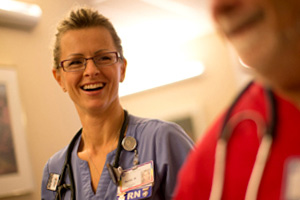 Employment for registered nurses (RNs) was projected to grow 16% from 2014 to 2024 by the U.S. Bureau of Labor Statistics,1 and management-level nursing positions often require a graduate degree.2 As the demand for nurses grows, so does the need for RNs with advanced degrees, such as a bachelor of science in nursing (BSN) or a master of science in nursing (MSN) degree. The Institute of Medicine is calling for at least 80% of the nursing workforce to hold a baccalaureate degree by 2020 and a doubling of the number of nurses with doctorates.3

If you already hold an associate degree in nursing, or have earned a diploma in a registered nurse program, or were in a graduate-entry educational transition program that prepared you for eligibility to become a licensed registered nurse, you may be eligible for a RN to BSN or MSN nursing program at a variety of colleges.

For example, if you're currently working as an RN you may be interested in CTU's RN to BSN degree, which focuses on the care for the complex needs of patients in a variety of settings or a Master's Degree in Nursing, which tends to focus more on nursing education, nursing management, or to prepare students for doctoral-level work.
What's the Difference Between an RN to BSN and an MSN?
RN to BSN programs generally prepare graduates through courses that include innovation in nursing, leadership, evidence-based practice, applied nursing research, safety and quality practices, and more. These courses prepare BSN graduates to work in a variety of RN staff positions, including:
Nurse manager
Clinical nurse intensive care
Intensive care unit (ICU) RN
Nurse case manager
Charge nurse
For those pursuing an MSN degree, they'll delve into courses in healthcare finance, advanced professional nursing practices, and policy and politics in nursing. Career paths for students graduating with an MSN degree may include:
Clinical nurse manager
Clinical informatics manager
Chief nursing officer
Director of surgical services
Director of oncology
Tips for Deciding Between an RN to BSN or MSN Program
If you're unsure of which degree you want to pursue, take a little time to think about what you like most about being a registered nurse.
Do you look forward to direct contact with your patients each day?
Are you more comfortable planning their overall care with a team of nurses versus interacting with each patient one-on-one?
Are you driven to put processes in place to make your nursing team run more efficiently to provide better patient care?
Have you thought about applying your years of experience and earning an MSN degree to start a new career in nursing education?
If you're more interested in direct patient care, then an RN to BSN might be a good choice for you.
If you like being in charge, maintaining processes, managing staff, and working with hospital administration, the MSN degree might be a better fit.
The field of nursing is wide open right now and there are many options to choose from. The good news is, in addition to traditional onsite nursing degrees, busy RNs may opt for one of the many online nursing degree programs, which saves commuting time and fits better into most people's busy lifestyles. Either way, traditional or online, it's important to remember that studying nursing is a rigorous undertaking and requires a great deal of time and commitment, whether you choose a BSN or an MSN.
If you're still unsure whether you should begin an RN to BSN program or pursue an MSN, it's a good idea to network with other nursing professionals to ask for advice about the career path your interested in. Also, feel free to reach out to CTU's admission department for more information on our nursing programs.
REQ1064547