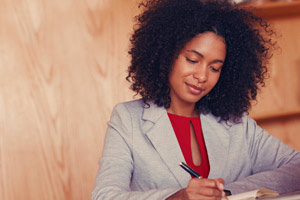 Writing a thank you letter after a job interview is standard practice in today's business world. But what you say, how you say it, and when you send the thank you note may mean the difference between leaving a positive impression and being lost in a sea of applicants. With a little planning, careful reflection, and timely delivery, your thank you message will have the best chance of placing you ahead of your competition.
Plan Ahead for Best Results
The best time to plan what you're going to say in the thank you note is during the interview. If you haven't had the interview yet, it's a good idea to keep the following in mind:
Pay close attention to what the interviewer focuses on during the discussion—you'll want to mention at least one key point in the thank you letter you write later.
If you interview with more than one person, make sure you leave each conversation with a key takeaway that you can mention in a separate note to each one.
When you shake hands at the end of the interview, ask the interviewer for his or her business card if it hasn't been offered. That way, you'll have his or her email address in hand when you leave so you can send a prompt thank you note afterward.
If you're unable to acquire the interviewer's email address, you can always send a thank you letter the old-fashioned way—via postal mail.
If you've already had the interview, think about key points that best reflect the essence of what was discussed. If you left without the interviewer's email address, reach out to the recruiter or the human resources professional who set up the interview. Sometimes, you may be able to find email addresses on the corporate website, as well.
How to Write the Thank You Note
To help you construct a powerful thank you note, we've collected some advice from experts in the field. Before you start writing, it's important to think about what you want to say, look over examples on how to say it and, finally, send it out in a timely manner.
What to Say
Liz Ryan, a workplace expert and contributor at Forbes.com, recommends thinking about the interview carefully immediately afterwards and even telling a friend about it before you write a thank you note. Summarizing the interview verbally will help you distill the different parts of the conversation in your mind, which may make writing the thank you letter easier.
When you write the letter, it's a good idea to mention a topic the interviewer raised during the interview instead of a subject you initiated. Ryan's reasoning for this is that people tend to remember their own points more than the person they're talking to—this may jog his or her memory and set you apart from the other candidates that were interviewed. 2
How to Say It
When creating a thank you note, remember to go beyond simple gratitude. Here are some recommendations:1
Reiterate your strengths as they relate to the position.
If you feel you weren't clear during the interview, or want to mention something new that you feel is important, it's perfectly acceptable to address this in the thank you note.
Ryan says that the thank you email or handwritten note can be as brief and simple as this:2
Dear Allyson,
Thanks for making time to chat with me about the Marketing Coordinator position at Acme Explosives yesterday, and thanks for your wonderful description of the plastic extrusion process. I'm excited to learn more.
All the best,
Jane Banks
Here are some things NOT to do in your thank you note:3
Don't send emails that contain shorthand language or decorative symbols.
Refrain from sending hasty and poorly thought-out messages to and from mobile devices.
A standard email gives hiring managers the sense that you sat down at your computer in a thoughtful way to follow up.
When to Say It
The consensus among experts is to send a thank you note within 24 hours of your interview.4 You never know how quickly the interviewer will make a decision and sending a thank you note immediately will keep you in his or her thoughts, especially since you may be one of the few—if not only—interviewees who took the time to send one.
If you miss the 24-hour window, go ahead and send one anyway. A thank you note that arrives a little bit later is better than not sending one at all. In fact, according to a survey of hiring managers conducted by CareerBuilder:5
86 percent say that not sending a thank you note "shows a lack of follow-through"
56 percent said it "indicates the candidate is not really serious about the position"
22 percent said they are "less likely to hire a candidate if they don't send a thank you note after the interview"
And last, but certainly not least, remember to proofread your letter. If possible, have a friend look it over for typos or grammar mistakes. Remember, the thank you note is a reflection of the kind of employee you would be—it can go a long way in solidifying the interviewer's positive opinion of you.
Have an interview coming up? Here are some tips for answering tough questions. Plus, here's some advice from CTU's Career Services on how to prepare for an interview.
REQ1056137