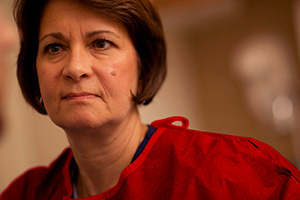 When deciding where to pursue a nursing degree, prospective students have several options at their disposal. They can choose, for example, an onsite program at a public or private university, or they can decide to work toward their BSN or MSN at an online institution like Colorado Technical University. Each choice comes with its own unique set of benefits and challenges, but both are designed to offer students the practical knowledge and skills to pursue a career in the demanding healthcare job market.
Recently, an article in the U.S News and World Report quoting CTU's Dean of Nursing, Ruth Tarantine offers new insights on how students and their prospective employers are evaluating online and face-to-face nursing programs. Here are just a few tips from the article that every online nursing student and graduate will want to know before hitting the job interview circuit.
Online Nursing Programs are Growing in Popularity: The ability to pursue an advanced nursing degree on a flexible schedule has made nursing one of the most popular online degrees. The article's author, Jordan Friedman, explains that nursing is currently "the second most popular major among both undergraduate and graduate online learners, following business administration at both levels."1 As more and more graduates with online degree enter the healthcare system and have a positive impact on it, any hesitations about the relative "newness" of online degrees will likely drop away entirely.2
The Online Coursework is Just as Challenging: In the article, Friedman interviews James Gregory, a recent graduate from an online program. Gregory explains that his online instructors had the same expectations as those at the University of South Carolina, where he received his undergraduate nursing degree. Still, some employers did question the quality of his degree during interviews.3 Ultimately, the interview process places recent grads like Gregory in the position of advocate, where they can use their own knowledge and experience to illustrate the equivalent value of their degree.
Most Employers Have Favorable Views of Online Degrees: The article makes it clear that most employers have a positive opinion of online nursing degrees. They also understand that online programs may be the only way for many students to pursue an advanced degree given the often erratic schedule that many nursing students experience. Friedman explains, "Nurses have historically worked shifts at hours around the clock, so many employers understand that an online program may be the only possibility for them to advance their career."4
Accreditation Is Essential: When prospective employers do have questions about an online degree, it's mostly to ensure that the university has the proper accreditation. In the article, CTU's Ruth Tarantine, explains why accreditation from either the Commission on Collegiate Nursing Education or the Accreditation Commission for Education in Nursing is so important. "Accreditation is essential because a third-party agency assures the quality and integrity of a program," Tarantine says.
Prior Experience Can Make The Difference: In general, employers only see the degree-whether received online or on campus--as one part of their evaluation process for any given candidate. They also want to know about prior experience working directly with patients and other healthcare professionals. When interviewing, Tarantine advises online nursing grads to find a balance between their in-person clinical experience where they learned "how to take care of people" with the foundational knowledge they gained in class.
The U.S. News and World Report article offers great information for nursing students at CTU who are starting to think about pursuing additional degrees. The advanced curriculum and flexible learning environment offered by online nursing degree programs is receiving overwhelmingly positive feedback from not only prospective employers, but students as well. As Ruth Tarantine explains, "We realize that our students are practicing nurses and want to learn nursing content today and apply it tomorrow."
CTU's RN to BSN program is accredited by the Commission of Collegiate Nursing Education. Click here to learn more about the CCNE's designation.
---
1. Friedman, J. (2016, February 23). What Employers Think About Your Online Nursing Degree. Retrieved February 26, 2016, from http://www.usnews.com/education/online-education/articles/2016-02-23/what-employers-think-about-your-online-nursing-degree
2. Friedman, J. (2016, February 23). What Employers Think About Your Online Nursing Degree. Retrieved February 26, 2016, from http://www.usnews.com/education/online-education/articles/2016-02-23/what-employers-think-about-your-online-nursing-degree
3. Friedman, J. (2016, February 23). What Employers Think About Your Online Nursing Degree. Retrieved February 26, 2016, from http://www.usnews.com/education/online-education/articles/2016-02-23/what-employers-think-about-your-online-nursing-degree
4. Friedman, J. (2016, February 23). What Employers Think About Your Online Nursing Degree. Retrieved February 26, 2016, from http://www.usnews.com/education/online-education/articles/2016-02-23/what-employers-think-about-your-online-nursing-degree