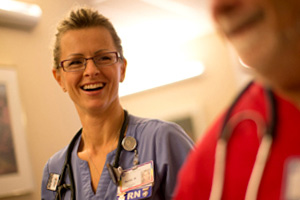 Professional networking is the act of building relationships, communications, and connections in the workplace-related world. While the careers of nurses are unique in many aspects, they can benefit greatly from professional networking.

You might be wondering: With my busy schedule, how can I find time to network? Don't fret: We'll help you understand why nurses need professional networking in all phases of their careers and provide some tips for building your connections.
Why Nurses Need to Network
Professional networking has concrete benefits for nearly every occupation, and nursing is no exception. Building a strong network of colleagues and potential future coworkers can provide:
Increased career opportunities via personal connections1
A better understanding of current trends in nursing
An outlet for communication with other medical professionals
Increased engagement in healthcare policies and news
Improved opportunities for career advancement
Tips for Successful Networking
Creating a strong professional network can't be accomplished in a day. Instead, it requires a dedication and a desire to communicate with like-minded professionals. Here are a few ways you can grow your professional network as a nurse:
Join a professional society: This type of organization brings together nurses organized by some commonality. Nursing societies can be centered on location, type of care, and many others. Resources for professional societies can be found online.
Use social networks and media: While it's always crucial to keep patient information and HIPAA in mind, social media can be a great resource for finding and communicating with other nurses. Try searching Facebook and LinkedIn for like-minded medical professionals.
Go to conferences: Medical conferences offer great opportunities for getting face-time with other medical professionals from across the country. Additionally, most conferences offer additional professional development opportunities through training or informational sessions.
Connect with classmates: Whether you're currently in an RN-to-BSN degree program, or are active in an alumni group, current and former classmates are a great resource for professional networking. Try setting up an in person meet-up or online get-together to talk with your classmates about how their careers are going.
Leverage your existing connections: It's important to realize that your professional network isn't just the people you know. It's exponential beyond that; the people you know have connections, who have connections, and so on. Reach out to your existing colleagues in the medical world and ask for introductions to people they think you should know.
Always have supplies: While you may associate swapping business cards with other careers, you should always have some with you. Business cards will ensure any new connections you meet will have your information on hand when they need it most.
Need Your BSN?
Are you a registered nurse looking to get your BSN? Colorado Technical University offers a comprehensive RN-to-BSN program that keeps your needs in mind and offers a variety of professional networking opportunities.
REQ1043040