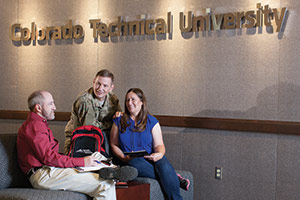 Going back to school while you're serving, or as a veteran, is a big decision. As an active duty service member or a military spouse, you may worry about how to balance your education and deployment or what you'd do if you have to move. If you're a veteran, you might be wondering how you can earn college credit for the many skills and experiences you've gained while serving your country.
By doing research, you'll want to uncover those universities that cater specifically to military personnel, and that understand your unique needs during deployment and at the base. You'll want to know that there are faculty who are military members and selected staff who specialize in military admissions and financial aid. Plus, you'll find that some universities offer specific grants or scholarships to the military community and flexible military-centric policies.
From important general questions to the nitty gritty details, get the answers to these five questions to help decide the best educational option for you.
5 Questions to Ask When Researching Your Options
Does the university offer the degree you want to earn?
Does the school you're interested in offer a degree or concentration that aligns to your goals? Take a look at the school's degree listings and flag a few you are most interested in. Then speak with an admissions advisor – they should be able to tell you more about the program and talk about your future plans. You don't want to get halfway through a degree program only to realize it really doesn't align to what you had planned for yourself. Take a moment to also check out a few other things about the university of your choice, like accreditation, affiliations and awards.

Accreditation lets you know that a school has met a specific standard that is carefully reviewed by a non-governmental agency.
CTU's Registered Nurse (RN) to Bachelor of Science in Nursing Degree (BSN) program has earned accreditation from the Commission on Collegiate Nursing Education (CCNE); an independent agency recognized by the U.S. Department of Education for the accreditation of baccalaureate and graduate nursing programs.
Six of CTU's Project Management degree programs and concentrations are Globally Accredited by PMI® through the PMI® Global Accreditation Center (PMI-GAC).

Are you able to take classes when and where it fits best into your daily life?
There is no nine to five in the military. You're "on" around the clock. Be sure the university you choose can keep pace with your hectic life.

For many military students, online programs can be an ideal way to earn a degree. You can attend class from anywhere in the world. And learning is available 24 hours a day, 7 days a week, by simply opening your laptop.
Other students may prefer the traditional classroom experience. CTU has a campus in Colorado Springs and Aurora so students can attend in person, online, or a blend of both. See if the school of your interest caters to the military and has a campus nearby.

Does the university offer transfer credit for prior training or eligible work experience?
This question helps you start reducing your choices to a more manageable list. It's one of the more important questions as the answer will impact your tuition and graduation date.

Your training and experience in the military may have academic value and some schools evaluate that as potential course credit.
The American Council on Education (ACE) is a higher education association that provides universities with college credit recommendations based on military experience and training.
Learning experiences obtained through employment, non-collegiate, school-based education or other appropriate channels may be evaluated for course credit by CTU if it is in adherence to ACE recommendations.
If you qualify for experiential credit, you'll be asked to build an Experiential Learning Portfolio (ELP) that aligns with the course you'd like credit for; a separate ELP is required for each course. The portfolio is then submitted for evaluation and determination of credit.
CTU understands that your military occupational specialty code (MOS) doesn't just identify a job code but the level of skill and experience you've gained. We conduct a comprehensive review of all eligible credit, which includes the JST, all MOS codes held, any prior education and professional training or certifications.

Does the university offer financial aid and/or specific grants or scholarships to the military community?
Again, the answer to this question may eliminate a few more choices on your list. Ask specifically about each category: military education benefits, military tuition rates, grants and financial aid to make sure you cover all the bases.

From the Montgomery GI Bill to the Post 9/11 GI Bill, to the Reserve Educational Assistance Program (REAP) and Top Up, there are numerous military education benefits available at CTU.
When it comes to tuition rates, you can count on CTU to provide reduced military tuition rates. It is just one of the many ways we make life easier for those putting their lives on the line.
Grants at CTU include the Yellow Ribbon Grant, CTU's Liberty Grant, Fry Scholarship, Wounded Warrior Scholarship and more.
You need your family's support to maintain your military lifestyle. And you need a university to help you support your spouse and dependents. That's why at CTU spouse and dependents will also receive many of the above financial benefits including reduced military tuition rates, grants and financial aid.

What other services does the university offer to military members?
Earning your degree while juggling the demands of a military or post-military career, family, and other personal priorities can be tough. That's why you should look at universities that truly cater to military member.

Make sure there is a dedicated military team on hand to help through the entire process – from admissions through military education benefits and financial aid options.
You'll want a University that is well versed at helping military members. Since CTU's inception there has been a strong military presence for over 50 years. Your future is in experienced hands, at CTU.
Knowing you can reach out to a team of people who understand your unique situation is invaluable in moving you past obstacles and toward a successful academic future. In fact, CTU has gotten many awards for being a military-centric university—and we plan to keep on working hard to serve those who have proudly served their country.