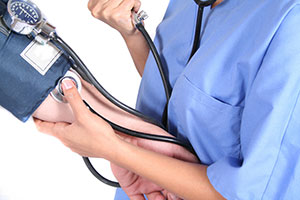 According to the American Association of Colleges of Nursing, the US is expected to experience a nursing shortage over the next decade, and this shortage could be good news for future and current nurses looking to advance in their careers. A projected shortage of qualified nurses means increased potential for job growth among those in entry-level positions as well as more available entry-level roles for those looking to enter the profession.

General growth in the nursing field places it among the fastest-growing professions in the country. The Bureau of Labor Statistics reports that the number of available registered nurse positions is projected to grow by 19.4% (526,800 jobs) through 2022. Nursing assistant jobs are projected to grow by 21.1% (312,200 jobs), and positions for LPNs and licensed vocational nurses are set to increase by 24.8% (182,900 jobs).1

As the need for nurses increases and more positions become available, those interested in furthering their career in nursing have the opportunity to pursue a degree that will make them competitive candidates in a growing job market. Below is a break down of the major factors contributing to the upcoming nursing shortage as well as additional opportunities for current and future nurses.
Causes of the Upcoming Nursing Shortage
The projected upcoming nursing shortage in the US is due to the convergence of three primary factors:
The Baby Boomer generation is aging, increasing the number of Americans who need healthcare services and providers at a faster rate than before.2
Current RNs are retiring at a faster rate than new nurses are entering the field. Combined with the increased demand for RNs and other nursing positions, this leaves a larger number of vacancies across the nursing field.2
The passage of the Affordable Care Act has increased the number of individuals seeking healthcare, which in turn has contributed to the growing need for nursing professionals.2
Additional Opportunities in Nursing Education
The projected shortage in job candidates qualified to fill vacant nursing positions makes it a great time for those interested in the profession to further their education – for example those with an RN may find now is the time to pursue a Bachelor of Science in Nursing (BSN) degree. While a bachelor's degree is not typically required for RN positions, it can help make for a more appealing candidate during the hiring process, and it may be helpful in qualifying for more advanced positions during the upcoming nursing shortage.
Some advanced nursing roles—like a certified nurse specialist (CNS) or a nurse practitioner—may require a Master's Degree in Nursing, meaning those who are already working as an RN holding a BSN may consider returning to school in the next few years. Holding an applicable master's degree when the nursing shortage reaches its height may be beneficial if looking to advance in the field, especially with the number of long-term nursing professionals expected to retire over the next decade.
In addition to the projected increase in the number of vacant nursing positions nationwide, the Institute of Medicine released a report in 2010 urging for the number of nurses with a bachelor's degree to increase from 50% to 80% by 2020. They further pushed for the number of nurses holding PhDs in nursing or nursing-related fields to double over the same time period, in part in order to help cover the increasing amount of overlap between higher-level nurses and physician care.3 These recommendations could point to a possible future nursing field in which higher education degrees are more prominent, or even required, for more standard entry-level nursing roles, and it may pay off to pursue further education now rather than waiting until later.
Thinking about a career in nursing? Read our blog on how to become a nurse to learn where to start. And if you're already a nurse and you're interested in furthering your education, CTU has several nursing programs to help.
REQ1011554