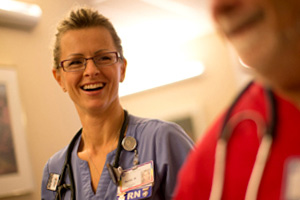 Passing the National Council Licensure Examination, or NCLEX, is a requirement for becoming a licensed nurse, so you need to carefully consider how to study for the NCLEX if that's your chosen career path. Simply put, a nursing degree alone is not enough — to become a licensed nurse, you must pass the NCLEX.1
Tips for Studying for the NCLEX
Something important to remember when you're approaching how to study for the NCLEX is that the basic outline of the content of the test will be available to you in the form of a test plan.2 You should focus on reviewing material identified in the latest version of the test plan published by the National Council of State Boards of Nursing. That said there are some general study tips that can help you along the way:
Take Practice Exams: Seek out practice exams and take as many as you can. Since most practice exams are designed to simulate the structure and style of the actual NCLEX, taking them will likely do more to help you prepare than just reviewing material.
Brush Up on Areas of Weakness: While taking practice exams, you should brush up on material related to questions you answer incorrectly. It's another advantage of practice tests: they can help you identify your weak spots.
Start Early: Don't wait until a week before your exam date to begin reviewing the material. Give yourself plenty of time — between one and three months, if not more — so you won't feel rushed or panic during your study sessions.
Tips for Taking the NCLEX
The NCLEX is a computer-administered adaptive exam that varies in length between 75 and 265 questions.3 Test-takers will either pass or fail, which is why it's important to prepare for the exam and put all of your knowledge to the test.
Arrive Early: It's a good idea to arrive a half-hour before your test is scheduled to begin. This will give you time to fill out the necessary paperwork without feeling rushed.
Be Aware of the Time: The amount of time you have to take the test will depend on whether you're taking the NCLEX-RN (for graduates of registered nursing programs) or NCLEX-PN (graduates of vocational nursing programs) — you get up to six hours to complete the RN exam and up to 5 hours to complete the PN exam.4 You'll also have the opportunity to take two optional breaks, with the first available after two hours and the second available after three and a half hours. Six hours may sound like a long time, but given the number of potential questions you could face, it's important that you establish a pace.
Consider Each Question Carefully: Be sure to give yourself enough time to carefully analyze the questions. When taking the NCLEX, you are unable to skip questions or modify previously answered questions, which is all the more reason to think your answers through and move at a comfortable pace.
Use the Process of Elimination: You might feel overwhelmed by multiple choice questions — it might seem like more than one answer is correct. Eliminate the answers that you know are wrong first, then carefully consider the remaining options until you're confident about one.
Don't Panic: It's important to remember that as long as you're still answering questions, you will still be able to pass the exam. Take your time, don't panic, and answer every question to the best of your abilities.
Learn about the next steps in your nursing career: read about CTU's RN to BSN program.
---
1. National Council of State Boards of Nursing, What You Need to Know About Nursing Licensure and Boards of Nursing, viewed on the internet at https://www.ncsbn.org/Nursing_Licensure.pdf (visited 11/6/17)
2. National Council of State Boards of Nursing, Test Plans, viewed on the internet at https://www.ncsbn.org/testplans.htm (visited 11/6/17)
3. National Council of State Boards of Nursing, Computer Adaptive Testing (CAT), viewed on the internet at https://www.ncsbn.org/1216.htm (visited 11/6/17))
4. National Council of State Boards of Nursing, Computer Adaptive Testing (CAT) FAQs, viewed on the internet at https://www.ncsbn.org/4700.htm(visited 11/6/17)