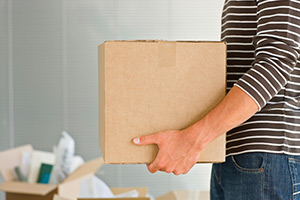 Being on the receiving end of a permanent change of station, or PCS, can be stressful, especially if you have a family. Things can get especially hectic if you're a student. You might wonder if it is even possible to pursue your degree and be on permanent change of station. Fortunately, being subject to a PCS doesn't mean that you have to leave your education behind — here are some tips for juggling both.
Tips for How to Continue Your Education on a PCS
Before you can tackle exactly how to handle your education on permanent change of station, you need to make sure the other facets of your life are in order:
Organize Your Personal Documents: Make sure all important documents such as your birth certificate and insurance papers are organized and ready to come with you.
Give Your Family Notice: If you have a family, it's important to discuss your impending move with them. If your spouse has a civilian job, they will need to give their employer adequate notice and search for a job near your new place of residence. If you have children, you will have to make arrangements for them to transfer to their new school.
Search for a Home: House hunting can be stressful…but can also be fun! As soon as you know where you will be relocated, start searching for your new home. You can look online or by contacting a real estate agent. If you have friends or family in the area, it might be a good idea to reach out to them for advice on good neighborhoods.
Visit Your Military Financial Center: There are a variety of military relocation assistance programs available, including help managing your move, transition assistance, and even settling-in services. If you wish to take advantage of these services, you should visit your Military Financial Center to discuss the resources available to you.1
Once you have the main details squared away — like where you'll live, where your spouse might work, and where your children will go to school — it's time to figure out what you will do as a student. It's possible that your relocation may place you near your school's main campus or a satellite campus. If you're an online student, you'll be able to continue your education regardless — online students at Colorado Technical University are able to attend classes anywhere, at any time. Whether you are taking classes online or in person, though, you should be sure to speak with your advisor about school policies that are relevant to your relocation, such as the Leave of Absence policy.
Colorado Technical University's Leave of Absence Policy
CTU is committed to its military students, and understands that service members may have to move frequently, and on short notice — but since CTU classes are accessible anywhere with an internet connection, you don't have to worry about leaving your education behind. That said, CTU understands that a Leave of Absence may sometimes be necessary. CTU's LOA policy allows for a temporary interruption in attendance for one or more of the following reasons:
Medical leave
Family care
Jury duty
Military duty
To receive a leave of absence (LOA), CTU students must submit a signed leave of absence request outlining the reasons for the LOA within five days of the last class attended or the beginning of the academic term. To be eligible for a LOA, CTU students must have completed and received grades for the last academic quarter, and you must have successfully completed at least one grading period. Students will also have to identify a date that they expect to resume their studies.
At any institution, the first step when considering how to handle your education on Permanent Change of Station is to talk with your advisor. Let them know your circumstances and see if they have their own Leave of Absence policy to help accommodate your move. If you're a CTU student and unsure about what exactly you need to do to receive a leave of absence, you should contact your Success Coach.
---
1. Military OneSource, "9 Relocation Assistance Programs and Services to Help You Settle In," viewed on the internet at https://www.militaryonesource.mil/moving-housing/moving?content_id=266923 (January 21, 2020)