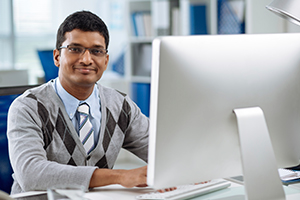 In the modern corporate workplace, analytics and data are playing a larger role than ever before. With the advent of "big data" and easily accessible tools like Google Analytics, employers are on the lookout for analytical thinkers who can make a real, measurable impact on an organization's success. However, there's more than one type of analytics; an increasing focus is being placed on two branches of the analyst career path: business analysts and data analysts.

Naturally, business analysts and data analysts both focus on data, research, testing, and results. But what's the difference between business analytics and data analytics? With this guide we'll help you understand how the two vary and what skills are a good fit for each role.
What is a Business Analyst?
A business analyst provides analysis as it relates to the overall function and day-to-day operations of a business.1
Someone in this role might perform research, organize, communicate, and oversee the implementation of key business tasks like:
Financing new initiatives or software
Selecting appropriate office space for the workforce
Creating a streamlined workflow
Choosing the best vendors to work with
Ensuring return on investment (ROI) is high
Business analysts lean less heavily on the technical aspects of analysis than data analysts; this type of analytics typically involves simpler formulas and calculations. Business analysts are expected to have a stronger background in business administration.
Excellent communication skills are a must for business analysts, as they are tasked with presenting their findings to a wide audience. Great business analysts are also fantastic problem solvers; this role requires a great deal of quick thinking under pressure.
What is a Data Analyst?
A data analyst takes large quantities of in-depth data and creates reports that display the information's overall significance. Data analysts are experts in the process known as data mining, which involves examining large quantities of existing data in order to identify new sets of data or trends.
A person in a data analyst role could gather information and produce findings for important initiatives like:
Understanding user behavior on a website
Identifying useful demographic information
Managing a database of subscribers or customers
Calculating yield in regards to a potential investment
Using A/B testing to optimize a marketing campaign
Data analysts must have high technical ability; much of the role focuses on complex databases, statistics, and formulas. Similarly, data analytics involves much more mathematics than is found in business analytics; a math or information technology background is very helpful.
People in this role should have excellent critical thinking skills and an ability to identify trends. Data analysts are sometimes called "data scientists," which highlights the reasoned and technical approach that is required for this role.
Hone Your Analytical Skills
The skills required for both Business Analyst and Data Analyst roles are well represented in Colorado Technical University degree programs. According to the Bureau of Labor Statistics (BLS), degrees in Business, Management, and Information Technology align with the responsibilities of these roles. For more information, explore the degree programs in our Business & Management or Information Technology areas of study, as well as our Doctor of Computer Science - Big Data Analytics degree.
---
REQ1011553