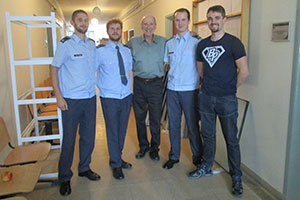 Dr. Frank Prochaska, CTU Professor Emeritus, recently returned from the Czech Republic where he was on a six week Fulbright Specialist assignment teaching creative leadership courses at the University of Defense in Brno, Southern Moravia to Czech Army and Air Force officers and civilian defense personnel.
Dr. Prochaska says of his time there, "What I've learned on these overseas assignments, and the years teaching at Colorado Technical University is that young people, no matter the culture, all learn the same way. Even though they are members of the EU today, I was reminded that the Czechs and Slovaks have had a rough history since the 1930s; Hitler, WWII, and then Communism until the end of 1989. We have been so fortunate to live here in such a free country. We forget this too often, and forget that so many other nations look to us for strength. "
Dr Prochaska taught Czech military cadets, civilian students and exchange students from Poland and Lithuania. He also worked with doctoral students, and facilitated team development with both the entire leadership and technology faculty and staff. He walked and rode a tram for 6 weeks, buying food daily and carrying it to the small military apartment. His wife, Elfi, joined Frank the last couple weeks, and with one pot, cooked some healthy food for Frank again.
Dr. Pro says leadership research data from the Czech University of Defense will be integrated into the CTU data base for use by both doctoral students from the Czech Republic and Colorado Tech.
"One always stretches the mind and body on a Fulbright assignment. This last assignment in Brno was special because I worked in the Czech language I learned at home when I was growing up in Michigan. I was also able to spend a little time with relatives at a wine festival in the family village with the excellent wines and slivovitz (plum brandy); and enjoy the old Moravian culture with the food and pastries like my Mother's and music like my Father's. The Czechs are known for beer, but Southern Moravia, near Austria, is wine country! Besides the Defense University and the well- mannered people, he says they will miss the stone streets, medieval buildings and churches (some from the 1200's).
Dr. Frank Prochaska and Dr. Steve Staley (now at the Aurora, CO campus) are the only CTU professors ever to receive Fulbright teaching awards. Steve and his wife Connie, a UCCS professor (the only double Fulbright ever) were in Kyrgyzstan in 1995-1996.
Dr. Pro won two previous Fulbright teaching scholarships, one in 1998- 2000 in Bulgaria, and one 2004-2005 in Belarus (White Russia). He has also worked with the Council of Europe. He and his wife Elfi, a native of Switzerland, have enjoyed being academic ambassadors for the U.S.
Dr. Pro has been with CTU since 1982. He directs the Prochaska Leadership Research Office located in the library on the Colorado Springs campus.
For information on a Fulbright Scholarship, contact Dr. Pro at fprochaska@coloradotech.edu.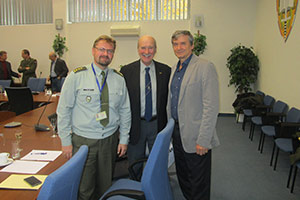 Dr. Pro and wife Elfi at a Prague metro stop