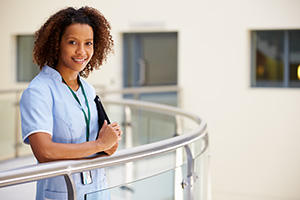 If we can learn anything from the recent social media firestorm surrounding the comments that The View's Joy Behar made about Miss Colorado's 2-minute talent segment as a nurse on the recent Miss America pageant, it's that there seems to be a great deal of confusion about nursing. The confusion centers on whether nursing is a science, a talent—or both.

For those of you who missed it, Behar, after watching Kelley Johnson's—also known as Miss Colorado—monologue about her heart-warming experiences as a nurse, referred to the contestant's nursing uniform as a "costume" and made remarks about Johnson having a stethoscope around her neck, implying that only doctors use stethoscopes.

Behar followed with an apology after her comments got instant attention via social media. Hashtags—#nurseforlife #nursesshareyourstethoscopes #thisisnotacostume #nursesunite #nursesmatter and more —were immediately created and can be found all across the Internet, even beyond social media sites.
CTU's Dean of Nursing Weighs In
In an instant, Behar's comments started a national discussion around whether nursing is more of a science or a talent. We sat down with Colorado Technical University's Dean of Nursing, Ruth Tarantine, DNP, RN, to get her thoughts about how talent and science play out in the nursing profession.
"Getting through a rigorous nursing education program is tough and it includes a science-heavy curriculum," Tarantine said. "It's not easy to become a nurse. It requires intelligence, hard work and unwavering commitment to intensive and ongoing education."
Indeed, it takes talent and commitment to education to become a nurse. Tarantine adds, "The education of nursing comes first, then a person's own talents are combined with the scientific knowledge gained through scholarly studies and clinical experiences."
What It Takes To Be a Nurse
Nursing is demanding, heavy in science, and requires a commitment from those who pursue it. Rigorous testing, such as the high stakes registered nurse exam, is required before one can become licensed in the nursing profession.
"After extensive learning, hands-on clinical experiences, and passing a licensure exam, individual talents round out the skills necessary to be an effective nurse," said Tarantine. "These talents complement a strong educational foundation – anything from an unwavering passion for patients, interpersonal skills, caring, collaboration, communication, prioritization, multitasking, and more."
By highlighting her nursing career for the Miss America pageant's talent segment, Miss Colorado has certainly brought a great deal of attention to nursing – highlighting that it takes compassion, good bedside manner, and empathy to be a successful nurse. Beyond this, it takes hard work as a student, the ability to pass difficult exams, and continuing your education throughout your entire career.
Educating Nurses for the Future
CTU is proud that we have these nursing programs —Registered Nurse (RN) to Bachelor of Science in Nursing (BSN) and a Master of Science in Nursing (MSN)—that give students a chance to pursue their nursing education. The RN to BSN program is accredited by the Commission on Collegiate Nursing Education (CCNE). Nursing students who graduate from CTU nursing programs have the opportunity to join other nurses who are making a difference in the lives of patients everyday.

We appreciate your hard work and dedication to your profession and all the time and effort you took to complete your nursing education and required testing. And we're thankful you're making a difference in the lives of the people near and dear to us all—our family, friends, neighbors and everyone else in between.

Dr. Ruth Tarantine is the university dean of nursing at Colorado Technical University, which offers a CCNE-accredited RN to BSN degree program, as well as a Master of Science in Nursing degree. Tarantine is a nursing industry leader with more than 25 years of experience, serving as a nurse, educator, and administrator. She earned her doctorate in nursing practice from Chatham University and her master's in nursing education from the University of Pittsburgh.