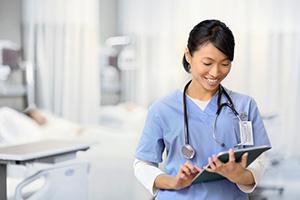 According to the Bureau of Labor Statistics (BLS), the job outlook for Registered Nurses (RNs) is quite optimistic, with the field projected to grow by 19 percent through 20221. While the need for medical care is only expected to grow as the U.S. population ages, not all RNs will necessarily have the same career opportunities, which makes it a great time to consider BSN and MSN degrees, or Bachelor of Science in Nursing and Master of Science in Nursing degrees.
While it's possible to become an RN with an appropriate Associate degree or by going through a diploma program, some employers require Registered Nurses to hold a Bachelor's or Master's degree in the field. The advantages go beyond the potential for career advancement, though — an advanced degree in nursing can upgrade your knowledge and help you provide superior care to those in need.
Why Pursue a Bachelor of Science in Nursing Degree?
The online BSN program at Colorado Technical University is designed for Registered Nurses who seek to elevate their career prospects and expand their knowledge of nursing. Preparing students for practical medical tasks as well as administrative duties, the BSN program can equip students with knowledge and skills necessary to provide care to patients and to remain abreast of emerging nursing procedures and trends.
Registered Nurses who hold a BSN degree may have an edge over those with an Associate degree or diploma when it comes to career prospects. A Bachelor of Science in Nursing — along with dedication and experience in the field — may help boost an RN to a position with greater responsibility. While most RNs begin their careers as staff nurses, a degree can help enable a move to directorial, business, and managerial roles.2
Why Pursue a Master of Science in Nursing Degree?
The online MSN program at CTU is designed to expand your knowledge of the nursing field beyond that of a BSN degree, often in preparation for a leadership role. Some roles for those with an MSN could be managerial, but it also has the potential to make you stand out as a candidate for a leadership role.
Regardless of your exact goals, it is important to understand that the nursing profession is one that requires continuous education — a Master of Science in Nursing can not only give you a significant base of knowledge, but can also prepare you to adapt to technological and methodological changes in nursing.
Job Prospects
When considering your career prospects with BSN and MSN degrees, it's important to consider that, according to BLS, "Increasingly, management-level nursing positions require a graduate degree in nursing or health services administration."3 A Bachelor of Science in Nursing can open doors, but additional education has the potential to expand your career prospects even further.
Registered Nurses with a BSN or MSN can focus their education to work with specific groups of people such as geriatric patients or teens, or to focus on specific conditions such as diabetes. RNs can also focus within specific fields — a public health nurse, for instance, would focus almost exclusively on the health of the community.
Overall, the job prospects for Registered Nurses — particularly RNs with BSN and MSN degrees — are very bright, both because of expanding access to healthcare services and due to the number of RNs who are expected to retire in the coming years. This, combined with the need for nursing professionals to continue to educate themselves on changes in the field, makes BSN and MSN degrees an attractive option not only as a way to upgrade your education in a foundational way, but also to prepare yourself for the rigors of a dynamic profession.
Thinking about returning to school but don't want to start from scratch? View our Transfer Credit Guide.