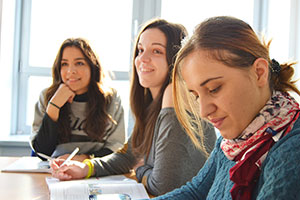 Starting college after working for a number of years can be a difficult transition as you adjust to a different schedule, new demands and increased time constraints. How can you help the transition of going back to school after being in the workforce?
Here are seven tips:
Do your homework. Talk to your employer about whether the company can underwrite your college costs. Ask the college you want to attend if you can receive credit for work experience. Or, if you attended college earlier in life, find out which course credits will transfer. Doing your homework even before you start college may shave time and money off your degree program!
Consider online schools. Taking courses online allows you to choose where, when, and how you study -- flexibility that is important if you are returning to school while continuing to work and care for your family. Research accreditation and other awards and recognition.
Take it slow. If you're worried about the transition to school, start by taking just a class or two for the first semester and then up your course load in coming semesters. Take those first few months to figure out where you can carve time in your schedule for school and ease yourself and your family into the new routine.
Understand that you're not alone. Far from it. More and more, "non-traditional" students are returning to college each year as they work toward changing careers or advancing their careers through education. In fact, according to the National Center for Education Statistics, 26 percent of college students in 2016 are projected to be over the age of 30.1 Reach out to other students who are in the same boat as you for support to help each other succeed.
Get your family on board. You will want their support to succeed at school. Family can offer the ongoing encouragement you need to succeed and be there to remind you of your goals if you struggle.
Ask for help. If you feel like you are struggling, reach out to an instructor or administrator at your school and ask for advice. They have reason to want to see you succeed too.
Keep your eye on the prize! You might be stretched thin now, but just remember that your hard work will pay off. Consider this: Someone with a bachelor's degree earns an average of $433 a week more than someone with a high school diploma, according to the U.S. Bureau of Labor Statistics.2 This increase is even more dramatic for those with a graduate degree.
The lesson here? Know that you will face challenges. But also always keep in mind that the degree you are working so hard for will, in the end, be worth all the time and effort you put into it. Go get it!
Learn more about how to receive credit for prior experience: Download our Experiential Learning Portfolio.
---
1. https://nces.ed.gov/programs/digest/d12/tables/dt12_224.asp, visited 11/3/17
2. http://www.bls.gov/emp/ep_chart_001.htm, visited 11/3/17