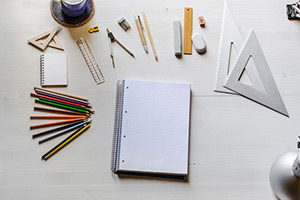 Transitioning from the military to college can be a huge adjustment. You jump from a strictly regimented routine with specific duties and responsibilities to a primarily self-guided schedule. Military friendly schools like CTU endeavor to support service members and veterans returning to school and below we've compiled a list of study tips for military students to help make the transition easier.
Take Careful Notes in Class
Most college courses will have classroom or lecture-based portions in which an instructor will cover a large amount of information that you'll need to call upon later when doing homework and studying. Since assignment work won't be happening under the direct guidance of the instructor during class time, you need to make sure you can easily reference all in-class information later.
Develop a note-taking system that enables you to quickly and clearly record important points in lectures or class activities without getting distracted or falling behind in the discussion. This could involve shorthand notes in a notebook, typing out your notes on a laptop, or even recording the class and marking specific times for reference later—the key is to find the best method that works for you. (Keep in mind that you should ask your instructor in advance if it's ok to use a computer for notes or to record the lectures).
Complete Any Assigned Readings or Homework Early
Rather than waiting until the day before assignments are due, try to start working on them as soon as possible following each class. The last class will still be fresh in your mind, making the assigned work easier and also helping to solidify any material you learned in class before you forget or it becomes less clear.
Another advantage of starting on assigned course work early is that you'll have time to ask your instructor if you have any questions or trouble. If you wait until right before the work is due, you may not have time to get any extra help.
Additionally, starting homework and studying as soon as possible after each class will help ensure you have the time you need to get everything done each week. This is especially important if you are also working full- or part-time while in school.
Designate Specific Study Times and Spaces
Since much of being a successful college student concerns time management, one of the most important study tips for military students is to create a solid study schedule and stick to it. This means creating specific times for studying throughout the week, and also finding dedicated study spaces where you won't get distracted.
When possible, try to break your study schedule down into specific chunks of time for each course you're taking. Knowing exactly what you plan to work and when can help keep your attention focused. Consider the types of study spaces that might be best for each of your classes. For instance, when studying for an english or history class with lots of reading, a library or quiet room in your house might be the best option.
Keep All Course Materials Clearly Organized
To ensure you have easy access to all of your notes and course work when you need it, invest in separate notebooks and folders for each class, and try to color coordinate or label them so they're easily identifiable. Having all the materials you need for a particular class in one easy-to-find spot will save a lot of extra time and hassle in the long run, and these can be especially hot commodities late in the semester when you're working on term papers and studying for finals.
In addition to organizing your class work and notes so they're all in one place, try making study guides for your most difficult classes. By outlining the key concepts and points you need to spend the most time on, you can make the most out of your study time and ensure you stay on track.
Leave Time for Relaxing and Spending Time With Family and Friends
While transitioning from the military to college requires a lot of work and studying, remember that you also need to leave some time for yourself to avoid burnout. Try to stick to your study schedule closely enough that you can also spend time relaxing or doing something with your family or friends in your off hours. Having a strong support network can make the transition to college life a bit easier, so be sure to call on others when and if you need help.
Learn more about CTU's Military commitment: View our Military Guide.