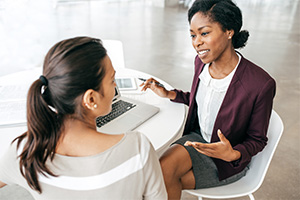 If you've found yourself in the middle of your career wondering is a Master's of Business Administration (MBA) is worth it, you're not alone. According to a New York Times Article, "Learning Curves on the Career Path," New York University's Emily Westerman, director of the office of career management, said there is an increase in people considering career changes1 but knowing the value of an MBA at this stage of your career means having the right information to help you make the best decision.
When to Consider an MBA in Mid-Career Advancement
According to Cron.com, the designation for those who are defined as "mid-career workers" are professionals who have ten or more years of professional experience––and many seek out "more challenging roles and additional responsibilities."2
Though, as professionals progress through their careers, making a change like returning to school for an MBA can feel risky. After many years in a certain career, it may feel challenging to leave given the stability of steady income, retirement benefits, long-term employment, and a good reputation built over years in a role. But making the investment at this stage in your career may bring a good return and payoff. In one study, approximately 59 percent of employers reported they were "very satisfied" with MBA graduate employees' work performances.3
In certain fields, the outlook is stable for those seeking an MBA; in securities, commodities and financial analysis, where many professionals seek an MBA, the job growth outlook is 11 percent through 2022.4
Those With Experience May Be Well-suited for an MBA Program
Though it's not uncommon for 20-somethings transitioning from an undergraduate program to enroll in an MBA program, job seeking guide site WetFeet states that some business schools focus on candidates who have some real-world experience.5 The more real-world experience you have, the more you may be able to contribute to your program, your cohort and to apply your prior experience to the problems you'll solve in your MBA program.
And if you're seeking to make a career change, the skills you learn in an MBA may be transferable across industries, which may increase your competitiveness.
Is an MBA Worth It?
Some industries target MBAs. The government, historically a sector with long-term job security, has done so for over a decade, according to GovCentral. From NASA to the U.S. Postal Service or Securities and Exchange Commission (SEC), agencies have sought candidates with MBAs for both MBA contract appointment programs and long-term positions.6
Overall, consider these questions to answer for yourself when deciding whether an MBA is worth it.
Does an MBA offer the skills I will need for my career goals?
What can my budget accommodate, and what resources are available?
Have I sought out others in the field, including recruiters, potential employers and those with MBAs for information on whether an MBA may be beneficial to employment in my field and region?
For students who qualify, scholarships may also offset program costs, which may decrease the cost of returning to school at this stage in your career. And in some cases, employers do offer tuition reimbursement--and making a case for one with your employer can make sense, particularly if you've given many years to the company.
If you've found yourself unable to advance in your career with many years invested, the additional education, skills, network and, ultimately, the degree you'll earn from an MBA program may afford you much greater opportunity to reach your career goals.
Thinking about returning to school but don't want to start from scratch? View our Transfer-In Credits Guide.