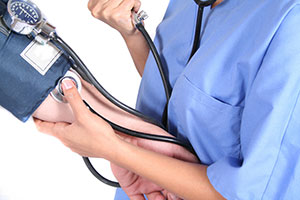 Why get a BSN? Many RNs — who in the past learned in teaching hospitals rather than classrooms — have long debated the necessity of a Bachelors of Science in Nursing. After all, everyone's on the front lines — helping people, caring for people and healing people — no matter what the degree is that you have. Times are changing quickly though, and a study from the Institute of Medicine on the future of nursing found that a BSN is becoming more and more of a necessity for nurses who want to be part of the quickly changing landscape of the health care industry far into the future.
Need more convincing? Want to know why to get a BSN? Here are five reasons why now is a great time to consider pursuing your Bachelors of Science in Nursing degree:
Students in Bachelors of Science in Nursing degreee programs are prepared for a variety of jobs. Bachelors of Science in Nursing students receive more than training in clinical skills. Instruction will delve into sought-after management skills, such as communication, leadership and critical thinking.Core coursework can also include classes such as challenges and trends in contemporary nursing, safety and quality improvement in nursing practice and technological applications in healthcare organizations. That education prepares BSN students for careers not just as RNs, but for roles such as nurse supervisor, clinical nurse in an Intensive Care Unit, and nurse case manager.
BSN students saw a paycheck bump. While it depended on the job position, a RN earned an average of $65,470 in 2012, while medical and health services managers (which include jobs such as nursing supervisor and nurse care manager) made an average of $88,580 in 2012, according to the Bureau of Labor Statistics.
A headstart in pursuing graduate studies. A bachelors degree is a prerequisite for admission to graduate nursing programs. So if you're interested in someday pursuing research, consulting or teaching then a BSN is right for you. In addition, you will need a Bachelor of Science in Nursing if you want to go back to school to further your graduate studies and earn a masters or doctorate in important fields such as a clinical nurse specialist, nurse anesthetist, nurse-midwife, or nurse practitioner.
More and more hospitals are requiring nurses to hold BSN degrees. A story in the New York Times reports hundreds of hospitals around the country have started requiring BSNs from their nurses. The same story reports that many states have made moves to make BSNs mandatory in part because a number of studies recognized by the American Association of Colleges of Nursing have shown patients attended by nurses with a bachelor's degree or higher statistically show lower rates of death, and have fewer adverse events and higher-quality outcomes. In addition, hospitals with nurses who all have BSNs can qualify for sought-after Magnet Recognition from the American Nurses Credentialing Center.
Some hospitals will pay for staff to work toward the degree. Because more and more hospitals are requiring BSNs, some make stipends or tuition reimbursement available for nurses who want to obtain their BSN degree, according to a report from the Bureau of Labor Statistics.For the same reason, there are many options available to employed nurses working toward a BSN. Online, quality programs can offer RN to BSN programs that allow students the flexibility and ability to set their own pace as they work toward a degree while balancing a full-time job and their family requirements.
The government's involvement in insurance, and a shift in philosophy from hospital centered in patient care to more of an emphasis on primary and preventative care means the health care industry is changing rapidly, according to the report from the Institute of Medicine. In addition, the Bureau of Labor Statistics expects the number of nursing jobs to grow as the population ages. Because of those reasons the demand for advanced nursing expertise is also growing. In other words, nurses are seeing their roles expand like never before. You can be ready for whatever is asked of you, or whatever specialty you someday decide to focus on, by starting the journey toward your BSN today!
Thinking about returning to school but don't want to start from scratch? View CTU's Transfer-In Credits Guide or learn more about CTU's Bachelor of Science in Nursing.