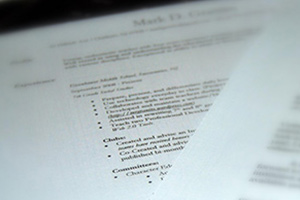 In the days B.C. (Before Computers) the cover letter had an important purpose. Since you had to type up your resume on a typewriter and have multiple copies printed, you couldn't tailor your resume to a particular position. So you typed a cover letter, which was used to highlight the qualifications and experience you had that related specifically to the job for which you were applying.
Now that you can create a new, tailored resume for every position you apply for, you may wonder, 'What is a cover letter for a resume and why do I need one?' But before you ditch the cover letter and just send a resume, consider these points.
1. Tell Your Story
The language of a resume is often stilted, for a couple of reasons. You're not supposed to write in the first person, so you end up with phrases like, "Seasoned technology professional with fifteen years experience..." You may be including all the relevant information, but it doesn't give the reader a whole lot of insight into your personality.
Plus, you need to condense your experiences at each job you've had into a single paragraph, and keep the whole thing to a single page, or two at the most. The cover letter provides you with the opportunity to speak to specific requirements of the job you're applying for.
A cover letter lets you express yourself in a more personal, natural way, and gives the hiring manager a sense of who you are. You can talk about what specifically interests you about the job or the company, and what you have done in the past that qualifies you for the job.
2. Specifically Address the Hiring Company's Needs
Unlike a resume, a cover letter lets you say to the hiring manager, 'I understand that you have this problem, and this is how I can solve it for you. I can do this because I have solved similar problems in the past.'
You can use your cover letter to tell the hiring manager why you would be a good candidate for the opening they have, rather than hoping they can figure this out be reading about what you've done in the past.
3. Don't Write a Cover Letter That Puts People to Sleep
Now that you know why you need a cover letter, how do you write a great one? Here are some tips on making your cover letter stand out from the crowd.
Do your homework. Of course, you've already read the job posting carefully. Now visit the company's website and get a feel for the culture. You will probably be able to tell if they are more formal and buttoned-up, or have a casual atmosphere. Try to mirror the tone of the website, erring on the side of professionalism if there's a question.
Use your contacts. If someone referred you, or you know someone at the company who has agreed to vouch for you, mention their name right off the bat. If you search the company name on LinkedIn, it will tell you if you have connections at the company, or if you know people who do. Reach out to those connections before you send your resume and cover letter to see if you can mention their names.
Lead with your strongest point. Find the one project you have worked on that most closely aligns with what the company is looking for, and describe your role in it. Then you can follow up with another specific project, or say that you have worked on several similar projects or in a similar role at other companies.
Mirror the language in the job posting. If one of the requirements is 'energetic self-starter,' don't be afraid to come right out and say, "I'm an energetic self-starter." Remember that the person who will read your cover letter first, and determine if anyone else will read it or not, is probably someone in human resources, so use the same industry jargon that is used in the job posting.
Keep it short and sweet. Put your cover letter in the body of the email and include your resume as an attachment. Three or four paragraphs is plenty. Start with an introduction that includes the name of the position you're applying for, and include the person who recommended you. Then relate one or two specific projects or positions that qualify you for the job. Close by asking for an interview and saying when you will follow up.
4. Start From the Right Example
Now that you know the answer to the question, 'What is a cover letter for a resume?' and you know what it should include, it can be challenging to get started. Fortunately, there are a lot of good examples of cover letters on the internet.
Review several examples before you decide which one you want to base your cover letter on. Remember that you want your personality to come through in your cover letter, so choose one that is similar in tone and style to the way that you speak and write.
For more help with writing a resume and cover letter, get Resume and Cover Letter Assistance from CTU's Career services.