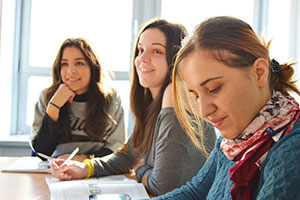 When you're embarking on your educational journey to earn a college degree, it can be daunting. You may feel like you're starting at ground zero with a big uphill climb.
The good news is that many universities, like CTU, have programs that can help make the path to a degree much easier – from academic advisors who provide support and assistance when you need it to flexible learning platforms that let you learn when and how it suits you.
And that's not all. You could potentially earn college credit for your past work or life experience. That could mean reducing the number of classes you need to take to earn a degree – saving you time and money. To get started you need to take a Prior Learning Assessment, also known as PLA.
Who qualifies for PLA?
If you are enrolled in any of our Associate, Bachelor's, Master's or Doctoral programs, you are eligible to have your prior learning assessed. An assessment involves a review of official documentation – like your college transcript – by a member of the CTU Prior Learning Assessment team. This ensures you've met the criteria for college credit at CTU.
Keep in mind that you can have the college credit you earned from other accredited postsecondary institutions reviewed, even if you did not complete a degree program. And prior college credit isn't the criteria for a PLA. You have other options.
Ways to Earn College Credit for What You Already Know
Aside from transfer credit, there are five additional ways you might apply what you already know to earn college credit at CTU.
Fast Track™ is a way for you to prove what you already know by taking a test, which can help you bypass certain CTU courses. There is no additional cost to take a Fast Track test, and passing can save you up to 30% in tuition costs1 and potentially help you earn your degree faster. A Fast Track test takes between three to five hours to complete, and may be taken any time before a course begins. If you receive a score of 70% or higher, then you earn proficiency credit and the can bypass the class that would have normally taken weeks to complete.
Experiential Learning may also be eligible for college credit. If you have received education from non-collegiate sources – like a comprehensive professional development program with an employer – then you may be able to earn credit toward your college degree. Your past learning must be relevant to the degree you are pursuing, and you must have documentation to demonstrate what you learned. CTU follows guidelines recommended by the American Council of Education (ACE) to assess experiential learning for college credit.
Military Credit lets the military experience or training you received as an active duty service member, reservist or veteran apply toward college credit. CTU uses the American Council on Education (ACE) Guide to the Evaluation of Educational Experiences in the Armed Services to determine transfer eligibility. For example, if you took a Military Science course, you may be able to bypass a social science elective at CTU. To determine your specific eligibility, you will need to submit your official military transcripts for consideration.
Professional Training or Certification you receive may also be eligible for prior learning assessment. You will need to present evidence of the learning you received and it must be relevant to your degree program.
Standardized Assessments are another way to test out of certain courses. For example, if you have successfully completed an Advanced Placement (AP) Examination – a test administered while in high school – then you may earn college credit. CTU also recognizes proficiency based on your scores on the College Level Examination Program (CLEP) or the DANTES Subject Standardized Tests (DSS).
As you can see, there are many options to help reduce the amount of time and money you invest in your college education. By taking advantage of CTU's Prior Learning Assessment program, you can be well on your way to achieving your goal of becoming a college graduate.
If you are not already enrolled in CTU and are interested in having your prior learning assessed for one of our degree programs, call us at 855-230-0555 to learn more.
If you are a current CTU student, then get in touch with your Success Coach to get started today.
---
1. Source: www.coloradotech.edu/admissions/prior-learning-assessment/fast-track