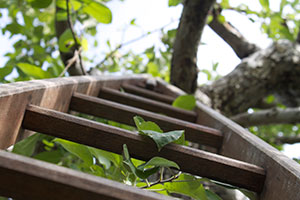 You did it. You managed to survive many months of classes, term papers and faculty that challenged and inspired you. You're contemplating the next logical step of pursing an advanced degree. Or maybe, it's been a while since you opened a textbook or thought about a class schedule. Regardless if you just finished your first degree or it's been years since you've thought about homework, it's never too late to consider setting a new goal—a graduate degree.
The commitment to pursue your next level of education is one that can take time and money but has the potential to have a solid return. Let's explore three possible benefits of a master's. We'll also pose several questions to ask yourself throughout your decision-making process as you determine if an advanceddegree is the next step in your journey.
Should you go to graduate school? What are the benefits?
Becoming a life-long learner.
A graduate degree elevates your education to a new level. It's no longer about sitting through required general education classes with any number of students who would rather be elsewhere. The culture and environment of most graduate-level programs provides an opportunity to create community of higher-level of learning and enrichment that can rarely be replicated. Your program can present an opportunity to take a deeper dive to satisfy your curiosities and build a new skillset.
Identify programs that will cultivate your passions and accommodate your style of learning. Selecting a program that meets your needs and matches your values will make for a fruitful experience. CTU provides career-oriented curriculum taught by experienced faculty who are dedicated to using innovative technology to optimize the student experience.
Investing in your future.
Depending on the program you select and your targeted career path, a graduate degree may increase your earning potential. While it may not guarantee an immediate ROI, there is potential for longer-term benefits to those with a master's or doctoral degree. According to the Bureau of Labor Statistics, professionals with an advanced degree have greater earning power than those with an associate's or bachelor's degree.
Beyond any financial gain, pursuing your next degree can help set you apart from the competition. It presents an opportunity to be more competitive in an already fiercely competitive job market. Not only can you walk away with a second, or even third degree, but also with an entirely new skill set to last far beyond your initial investment. CTU offers programs that encompass a balance of rigorous coursework with practical, real-world experience. By offering over 35 campus-based and online master's degrees and concentrations and 15 executive-format doctoral degrees there are plenty of options to explore.
Professional Development and Satisfaction
Perhaps you're completely satisfied with your current career path and simply want to fine-tune your professional abilities. Or, maybe you recently decided you are professionally unsatisfied. A graduate degree can transition you into more rewarding opportunities. Whether you're seeking to elevate your current position or start from the beginning, earning a master's or doctoral degree provides an opportunity to uncover new passions and experiences that previously were not an option for you.
CTU provides an opportunity for you to take control of your education with industry-focused programs and flexible learning options. The ability to create your own experience will provide the foundation to achieve your professional development goals and realize greater professional satisfaction.
You understand the benefits, now what?
Now that you understand a few of the benefits of obtaining a second or third degree, consider asking yourself a few key questions to determine if graduate school should be your next step.
What are your motivations for considering a graduate degree?
Take time to research and understand what your personal benefits will be for going after a master's or doctoral degree. If you're more of a career-orientated learner, will your program of choice support your career path? And for the life-long learners, consider the various degree programs offered by your preferred institution and what coursework and practical experiences will be available to you. For example, CTU offers a range of master's degree programs including business and management, healthcare, information systems and technology, engineering and computer science, security studies and project management.
What type of program will fit your lifestyle?
Many of today's graduate school programs cater to students on the go. While each program is different, you can except to attend school for an additional 18 months, or more. For the working professional, the flexibility an online program offers may be essential. Others may still prefer on campus, classroom experience. CTU offers the opportunity to customize your experience—whether you choose to study online, choose an on-ground campus curriculum or even a hybrid of online and ground classes.
Are there external funding opportunities?
It's no secret that the cost of education is on the rise with little sign of slowing down. While a graduate education can be an investment in your future, you don't want it to become an unruly burden. Financial assistance at the graduate level exists through assistantships, grants, scholarships, and tuition reimbursement—to name a few. Identifying what's available to you can make a significant difference in how you finance your next degree. CTU is committed to assisting you in developing a financial plan through exploring a variety of options like federal and state loans, scholarships, work-study programs, private loans, self-payment and tuition reimbursement.*
Image Credit: Flickr/Nerissa's Ring