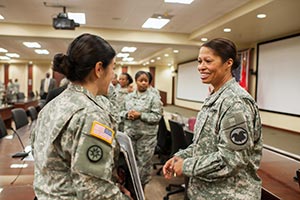 While the overall unemployment rate1 in the United States slowly creeps back to pre-recession levels, there is one segment of the working population that still struggles to find work – post-service military women. According to the Bureau of Labor Statistics, the unemployment rate for veteran women over 18 years old is one percent more than the national rate at 6.9 percent2. A single percentage point may not seem significant, but it certainly is for the veteran women who are unable to find work despite years of training and service.
Post-service military women encounter a myriad of challenges when they try to enter the civilian workforce, including:
Mismatched skills. A woman who invests four or more years of her military career performing arms and artillery repair may find it difficult to transfer those skills into a civilian career path.
Disproportionate pay. The salary, benefits and cost of living while in active duty can be drastically different than post-military life, creating a wage gap that veteran women find difficult to manage.
Lots of experience, no degree. Although education benefits are available while in the military, the distraction of deployments and other military responsibilities can make earning a degree difficult for women who don't recognize its importance until they're looking for civilian work.
Whether you are currently in the military or you are looking forward to retiring down the road, it's important to consider the direction of your career after your service. Here are some tips to help you prepare for a thriving career after the military:
Keep Your Resume Up-to-Date
While you're in the military, you may not think it's important to maintain an updated resume, but a resume isn't just for active job seekers. For those who are preparing for the future, the resume is a useful tool to help you track your professional experience, accomplishments and awards. Whether you're in military service for four years or 30 years, you're gaining valuable training that may be useful in a civilian career later.
Think Outside the Box
As you consider potential civilian career paths, avoid pigeonholing yourself into a specific direction because of your military history. If you handled supplies and cargo in the military, that doesn't necessarily mean you're only qualified for a warehouse job in the civilian workforce. Civilian employers don't understand what happens in the military, so it's important for you to know the distinctions and how your military skills can be applied in other ways. Also, think beyond accomplishment and begin to think about value – the value you offer to prospective employers. This is the essence of your personal brand.
Build Your Professional Network
Don't wait until you're a few weeks from retirement to create a LinkedIn profile and grow your professional network. Build those important relationships now. Of course, you may initially find that your network is mostly comprised of military contacts. That's a good start. Those contacts can become valuable in time, especially as others retire and enter the civilian workforce. But also spend time trying to cultivate professional relationships with people outside of the military. Start with friends and family. Those contacts can lead to new introductions. And don't be afraid to strike up a conversation with someone on the airplane or in other public areas. You never know if a simple conversation can lead to a bigger opportunity in the future.
Gain New Skills and Knowledge
Having a degree can have its benefits3. Historically, those with a degree are not only more likely to be employed, but they have tended to earn more than those with just a high school diploma. The military offers a range of education benefits while you're either in active duty or retired. Of course, the challenge many women face – military and civilian – is finding the time to earn a degree. Life, career and family responsibilities can quickly overshadow your goal to graduate from college. But it doesn't have to be this way. In fact, many universities, including CTU, have online, military-friendly degree programs that enable active and veteran military to go to school alongside other commitments.
Find a Mentor, or Many
Connecting to the civilian world before you leave the military is an important part of your post-military career success. Fortunately, there are programs available that can match you with civilian mentors who can provide unique insights, advice and support as you make the transition out of service. If your military duties keep you from away from home, then consider joining online groups that might offer mentoring.
---
1. https://data.bls.gov/timeseries/LNS14000000
2. https://www.bls.gov/news.release/vet.t02C.htm
3. https://www.bls.gov/emp/chart-unemployment-earnings-education.htm