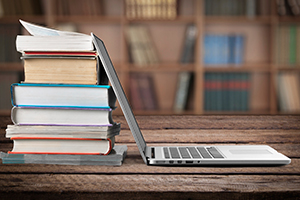 According to the Bureau of Labor Statistics, people with associate degrees are not only more likely to find jobs, but they also earn more compared to those who only have a high school diploma or GED1. More exciting is the wide variety of careers that an associate degree can prepare you for – including healthcare, business and technology-related occupations. With such a positive outlook, just imagine the places you might go if you earned an associate degree.
To give you an idea of what you can do with an associate degree, we've collected employment data on five jobs related to degree programs offered at CTU. The Bureau of Labor Statistics' Occupation Finder reveals over 40 potential occupations for associate degree holders, so keep in mind that your potential isn't limited to this list.
If you're thinking of an Associate of Science degree in Accounting…
Do you have a knack for numbers? Do you get excited about analyzing and interpreting data? Then you might have a future as an Accountant. An accountant reviews and processes accounting records to prepare financial statements and gives advice based on his or her findings. Accountants also audit and evaluate financial statements prepared by others. As an Accountant you might work for an accounting firm or a financial institution, but there are many other types of industries that hire accounting professionals as well. The 2013 median salary for accountants was $65,0802.
If you're thinking of an Associate of Science degree in Business…
The study of business involves a broad range of business-related topics that may include accounting, business law, human resources, marketing and general management. The career opportunities you pursue will depend on your specific area of interest. For example, if you have an interest in labor relations, recruiting or employee development, you might consider a career in Human Resources. The 2012 median salary for a Human Resources Specialist was $55,6403. Another potential career path is sales. Sales Representatives in the wholesale and manufacturing industry earned a median salary of $57,870 in 20124.
If you're thinking of an Associate of Science degree in Electronics Technology…
With a degree in electronics technology you'll gain knowledge about computer architecture, circuit analysis, digital design, Web development and more. Upon graduation you might pursue a career as an Electrical and Electronics Engineering Technician. In this role you will likely work closely with electrical engineers, helping them to design and develop computers, communications equipment and other electronic devices. The 2012 annual median salary for this occupation was $57,8505.
If you're thinking of an Associate of Science degree in Health Administration Services…
Pursuing a degree in this area provides the skills and knowledge you need to pursue a career in healthcare administration. This can prepare you for a career as a Medical Secretary that, in 2012, paid a median salary of $31,8906. However, if you want to advance in the healthcare administration field, this associate degree provides the foundation you need to continue toward a Bachelor of Science degree in healthcare management. It also prepares you to take the Certified Medical Administrative Assistant (CMAA) exam, a designation that demonstrates your ability to provide administrative skills needed to efficiently run a physician's office or clinic.
If you're thinking of an Associate of Science degree in Information Technology…
As the use of technology advances, the need for skilled workers in the information technology, or IT, industry has increased. In this degree program you will be introduced to programming, UNIX, computer security and more. This can prepare you for a career as a Computer Support Specialist, an occupation that earned a median salary of $48,900 in 20127.
If you're thinking of an Associate of Science degree in General Studies…
An associate degree in general studies is a liberal arts program that gives you the opportunity to develop a strong educational foundation. You will gain professional acumen, knowledge and skills needed in a variety of workplace environments. Core courses may include psychology, mathematics, writing, literature and science. You might also consider pursuing a concentration in Military Studies, a program designed specifically for current and former military service members. Courses in this concentration help prepare graduates for careers in government, national security and even the private sector.
Your Pathway to a Promising Future
In addition to preparing you to pursue a career immediately after graduation, an associate degree is a great foundation if you plan to earn a bachelor's degree (or higher) in the future. In some cases, it may be possible for you to transfer the courses you completed as part of an associate degree program toward the completion of an advanced degree. Each university will have different transfer requirements, so it's important to meet with your admissions advisor to explore the possibilities.
Now that you know the how an associate degree might positively affect your future, which one of the many potential career paths will you choose?
---
1 Source: Earning and Unemployment Rates by Educational Attainment https://www.bls.gov/emp/ep_chart_001.htm
2 Source: Occupational Employment and Wages, May 2013, 13-2011 Accountants and Auditors https://www.bls.gov/oes/current/oes132011.htm
3 Source: https://www.bls.gov/ooh/business-and-financial/human-resources-specialists-and-labor-relations-specialists.htm
4 Source: https://www.bls.gov/ooh/sales/wholesale-and-manufacturing-sales-representatives.htm
5 Source: https://www.bls.gov/ooh/architecture-and-engineering/electrical-and-electronics-engineering-technicians.htm
6 Source: https://www.bls.gov/oes/current/oes436013.htm
7 Source: https://www.bls.gov/ooh/computer-and-information-technology/computer-support-specialists.htm