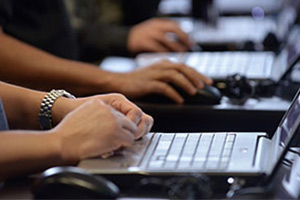 Online learning is a way for busy, top-notch professionals to add to their credentials. While it can be a more convenient, cost-effective path toward a achieving a degree, there are other benefits of online learning you may not have considered.
1. If You Have the Right Experience, Many Employers Today are "Degree Blind"
Eavesdrop into a conversation between high school students across America and you'll hear rumblings about getting into school. But whether you're a young person just getting started or a seasoned professional, a study by the Society of Human Resources Management (SHRM) shows that the kind of school isn't as important to securing a great position these days. In fact, in their poll, 79 percent of employers had hired candidates with an online degree. Most employers--63 percent--"strongly agreed" with the assertion that online learning through individual classwork is as credible as any "brick or mortar" institution. And per the study noted in Forbes, employers view additional education positively.
This has never been more true than it is now, the study continues, with 68 percent of participants agreeing that online learning and degrees are viewed more favorably now than they were five years ago. While that might not come as much of a surprise to everyone, the slant toward a new found credibility and openness to hiring those with online degrees may.
2. Rigorous Accreditation Standards
Today, depending on the institution, online learning and degrees may meet the same rigorous accreditation requirements as other post-secondary institutions do. If you've opted to take a distance learning route through a brick-and-mortar university, or want to attend an online school, you can check with the institution's career counseling department or directly with the department who issues your degree to find out about accreditation standards. Accreditation works as a way to ensure a school provides a quality education through a review or audit of the program by an outside institution. There are several types of accrediting agencies, including national and regional accreditation agencies, and types of accreditation, such as institutional and programmatic accreditation.
The additional benefits of online learning are that in many online programs, instructors must be qualified, and in many cases must have a masters, just as a professor in a brick and mortar university would. So, choosing an online program can offset the cost of receiving an education with both quality accreditation and instruction.
3. Online Learning Can Build Tech Savvy Skills
No matter the industry, it's not uncommon for employees to feel challenged when using new technology and the best ways to use it. But exposure to different modes of technology and how to use it can be an additional benefit of online learning. Though today some online institutions have become easier to navigate, many do still require you take some time to learn how to use a school's online learning platform. From class forums to webinars, live video instruction to how you submit coursework, online learning can be a great way to build tech competency. And according to a study by Evolv, a company that analyzes big data and the work force, those who scored higher in their openness to learn new technology showed more productivity along a few key metrics like job longevity and lowered sick days.
4. Some Online Schools Continue to Focus on Building Strong Alumni Networks, Which May Mean More Opportunity for Students
You may not have to rely on graduating from a traditional school to receive the benefits of a strong alumni network. It's an easy process to take part in an alumni network and many times can be as simple as registering. Depending on the model, it may be free, require a lifetime membership or annual dues. It can be easy to get in touch with an alumni network, and a strong alumni network means increased opportunities through another connection funnel. Many times, brick and mortar universities do require a fee and upkeep to be part of their community from year to year. Though, in online scenarios that cost can go down and many times can be free to graduates or students of programs.
So, you may not have to depend on earning a traditional degree to gain access to a great network, potentially making your transition from student to professional an easier one.
If you considered the only benefits of online learning as potentially decreased cost and time spent gaining a degree, you'd be missing some of the lesser known and equally attractive considerations that some online degree programs offer over traditional coursework. But as always, do your research, consider the quality of faculty and the rigor of the degree, to best prepare yourself for the career you want.
Thinking about returning to school but don't want to start from scratch? View our Transfer Credits Guide.
Image source: https://www.flickr.com/photos/officialgdc/