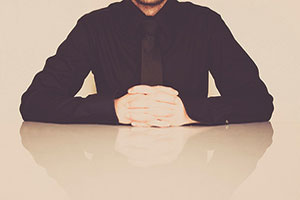 It doesn't take many interviews to realize that practice makes perfect, and the more prepared you are, the better off you'll be. However, as you start to plan and prepare for an upcoming job interview, use these common interview mistakes as a checklist to help ensure you're always putting your best foot forward.
Mistake #1: Being Unprepared
Of all the interview mistakes, being unprepared is among the worst. Walking into the interview, you want to know as much as possible about the company, the position, and the interview panel. Some no-brainers include the company's mission, vision, values, and history. If you know what location or division you might join, take time to learn what you can about those specific entities. Also, it doesn't hurt to check out the company's social media presence.
Mistake #2: Dressing Inappropriately
Your appearance is one of the first impressions you'll make, so it's important to dress appropriately and come to the interview with professional-looking appearance. That doesn't mean that you have to pull out a three-piece suite for every interview. The best way to figure out what to wear is to learn more about the company's culture, which will usually let you know if the workplace is laid back, formal or a mash-up of the two. When in doubt, it's best to err on the conservative side--dressing in clean, professional clothing.
Mistake #3: Lacking Professional Communication Skills
Your communication skills are essential to interviewing. Knowing what not to say during an interview and how to sell yourself (without over selling) can contribute to your ultimate success. Strive to make a positive connection with each person you come in contact with at the company. Basic communication skills to keep in mind:
Shaking hands. Practice giving a comfortable, firm handshake, not too firm but not clammy and weak.
Eye contact. Keeping on-going eye contact can be a challenge, but you want to consistently and evenly provide eye contact with each interviewer.
Posture. You may not know what type of room or setting you'll be interviewing in, but regardless of your environment do your best to sit upright and be aware of your non-verbal body language.
Mistake #4: Talking Too Much
It's hard to believe, but talking too much may do as much harm as not talking enough. If you tend to be anxious during interviews, consider asking a friend to do a mock interview with you ahead of time. This will allow you to practice concise, succinct answers. The last thing you want to do is ramble to the point where the interviewer doesn't even remember the question he or she asked. Keep your responses simple, direct and remember to answer the question.
Mistake #5: Badmouthing Past Employers
We've all been there—having flashbacks of horrible bosses and undesirable working conditions. However, your next job interview isn't the time or place to walk down memory lane. Avoid trash talking a previous employer. You never know who might be part of your interview panel's professional network. Also, keep in mind that negative talk usually ends with the interviewer questioning your loyalty. Try to be honest without engaging in gossip.
Mistake #6: Providing Inappropriate Recommendations
In most recruitment processes, you will need to provide references or provide letters of recommendation. If asked, be sure to enlist the appropriate people. You can automatically eliminate mom and grandma—leave personal references off of any professional job application and aim for professional colleagues, supervisors, clients, etc. You want to choose people who can describe your best work and the contributions you made. That kind of insight will usually come from your direct supervisor but might also be from a colleague or other manager.
Finally, before giving out the contact information for a reference, take time to ask each person if they're willing and able to serve as a positive reference. There are plenty of people that might be willing to provide a recommendation but take the extra step to ensure they're comfortable providing a positive review of their experience working with you.
Mistake #7: Ending the Interview on a Flat Note
As the interview winds down, you'll want to leave a lasting impression. You can do this by closing with good questions. Come prepared with a short list of questions you have about the company, the position or other information that would be helpful for you to know. Well-thought out questions show you are engaged, interested and knowledgeable about the company and the potential opening.
Then after the interview, consider writing a quick email or even a hand written thank you note. Use this opportunity to reiterate why you're the best person for the job and, of course, thank the interviewer for their time and consideration of your application.
Interviewing can be stressful and overwhelming. We're all bound to make a few mistakes along the way but use those as experiences to build on and perfect your interviewing skills.
If you still need additional interviewing support, check out CTU's Career Services where our career coaches can offer additional tools and guidance to successful interviewing.