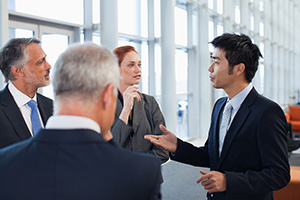 We certainly aren't insulated in the United States. The world's doors have opened to us like never before, and with that openness comes challenges, questions, and obstacles. But having doors flung wide open can also come with many, many possible rewards -- including both business and personal.

To get the most out of these changing times, and to find jobs requiring knowledge of international business, you may need to understand the context of global business, cultures, and politics. That context can help you see how one event can have a ripple effect throughout the world and can help you develop the ability to understand and analyze world economic trends, along with their impact on finance and business.1One way to work towards gaining those kinds of valuable insights is to consider a concentration in international business while pursuing an accredited Bachelor of Business Administration degree at Colorado Technical University. Here are five reasons why you may want to consider an international business concentration:
Virtually any enterprise now can have a global reach. That means professionals with an international business background can be a valuable asset to almost any type of industry. The Internet and World Wide Web has allowed communication at unparalleled speed and levels of course, but also consider the improvements in transportation, governmental relations, and the work by world leaders to remove international business restrictions. All of those factors are part of why the global business landscape has changed so dramatically and so quickly.2
You could be the authority on an international project. People with an international business education and experience can have a leg up when it comes to consideration as the person to turn to for international projects. A quality international business program will build off a solid Bachelor of Business Administration core curriculum. At CTU, international business students can take courses with titles including International Finance, Management in International Business, Legal Operations in International Business, and International Marketing. All courses are designed to help you develop the international business knowledge that may be useful within a company as it grows its international footprint.
You can better understand and appreciate how diverse and rich in culture the world really is. While working toward an international business degree you can learn to understand the nuances of how to communicate and negotiate, as well as learning even the etiquette of different countries. That type of understanding can give you the cultural sensitivity that may help you be effective in the global marketplace.
You can take advantage of varied job opportunities. Because so many types of businesses have a global reach these days, the kinds of industries looking for job candidates with an international business concentration is diverse. An recent analysis by Burning Glass showed some of the top jobs employers are looking to fill with a candidate with an international business degree included business analyst, program manager, management analyst, store manager, operations manager, and production manager.3
You may better understand the global business and political world around you. The skills you can acquire while earning an international business degree can help you develop an understanding of how the interrelationships of the global business environment is affected by cultural, political, legal, economic, and ethical systems.4 And what could be better for the world than more and more people having a broader understanding of what's happening in the world around us?
Browse CTU's Business degree programs. Want to find out more? Learn more about an international business degree program, and explore why other students have found the educational opportunities at CTU valuable on its website.
Learn more about how to receive credit for prior experience: Download our Experiential Learning Portfolio.