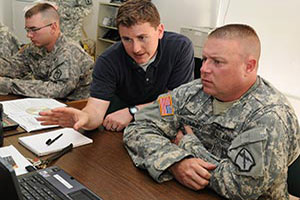 Are you approaching the end of your service in the military? As you close out your military career, your focus may now turn to imagining your life after the military. So where do you start? Your big decisions may lie in whether you want a civilian career in the same field as your military specialty, whether that will require further education and other big questions like where you want to live and how family enters the equation. When it comes to jobs after service, remember to focus on all that you have learned during your military service and all of the attributes and skills you now possess. Leadership, teamwork, problem solving and working under deadlines and pressure are all qualities of military veterans that you can play up when it comes to job interviews.
Here are some tips to help you with your military to civilian transition.
1. Build your network
In an age when job applications and resumes are handled electronically, it can be even more important to make a personal connection in order to get noticed. One way to accomplish this is to network—in other words, get to know people and make new acquaintances. A good way to start can be with social media. LinkedIn is a business related networking site that helps you network with others who either work in your field or are hiring. Once you create a profile, you can search your industry and region for job openings and people in your career field and post your resume. This is a good starting point for getting to know the hiring managers from different companies. You can also connect with corporate recruiters and many large companies these days have a recruiter who specifically focuses on hiring veterans. Meeting people in person can also be key, so try to join a professional organization in your field and a local volunteer or charity group like Kiwanis or Rotary. The more people you meet, the more opportunities may develop.
2. Reach out to military alumni
The military has one of the largest alumni networks in the country and it can be an invaluable tool for life after the military both professionally and personally. Try to connect online and in person with veterans groups. This can be a good way to make new friendships, share experience and challenges and network for possible job opportunities and mentors in your civilian career.
3. Look for military friendly employers and colleges
Many companies have a human resources recruiter who is former military and whose job it is to recruit and hire other veterans. Many other companies have initiatives aimed at hiring former military members. You can seek out these military friendly employers and head hunters online and many of them participate in veteran job fairs across the country. If you are considering furthering your education, you may want to consider a military friendly school such as CTU. You may be able to start your courses while still on active duty and also earn credit for your experience.