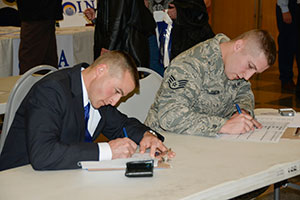 Whether you are on active duty or transitioning to civilian life after military service, you may be ready to start or finish your college degree. Getting back on track with your education can be quite a daunting task to undertake, but many schools support the military life and there can be plenty of help out there for you as you head back to the classroom either in person or online. Here are three tips that can help get you started or restarted on your education.
Apply For Your GI Bill Benefits
One of the scariest prospects for potential students can be how to pay for school. Fortunately, your military service can make this easier. If you quality for the Post 9/11 GI Bill (Chapter 33 benefits), your tuition and fees may be covered. The Department of Veterans Affairs website will help you find out what benefits you are entitled to and how to apply for them. Make sure you allow several months for the VA to process your application before you sign up for classes to make sure that your finances are in place before your tuition bill comes due. Many colleges and universities also offer financial assistance opportunities for veterans that can range from grants to loans to scholarships, so be sure to check with the financial aid offices of schools you are considering.
Choose The Right School For You
Picking the right school for you is crucial, especially if you are still on active duty. If you're considering a traditional brick and mortar school, you'll want to visit the campus. If you're still on active duty, you may want to consider schools with online courses (which include almost all schools these days). Whether it's military life on active duty or post-military life holding down a civilian job, flexibility can be important, so you may want to make sure you find a program that allows you to adjust the number of courses or amount of hours you take per session according to your work or military demands. Also, be sure to check that your school is accredited. Most schools have veteran affairs staffers, centers and counseling to help you through the application and financial aid process. Make sure to take any required entrance exams (SAT, ACT) for your chosen school if you have not previously take them. If you have taken classes before, get copies of your prior test scores and college transcripts ready to submit when you apply. Check the VA's website for information on colleges and universities that are veteran and military friendly.
Credit For Military Experience
Some college and universities offer the possibility of applying your military service as transfer credit. Whether you are an active duty, reserve, or veteran service member, your military training and service experience may be able to take you closer to an Associate or Bachelor's degree at Colorado Technical University. CTU's Prior Learning Assessment team reviews and evaluates veterans' military training, courses, occupational specialties and traditional education for potential transfer credits.* Colleges and universities can offer credit for military experience through the American Council on Education (ACE). You should complete the DD-214 form that will detail your military service and accomplishments.
As a military friendly university, CTU strives to addresses the specific needs of military and veteran students. CTU is committed to offering the best support, flexibility and resources for military and veteran students pursuing their education. Whether you are focused on advancing your military career or preparing for the civilian job market, CTU aims to be in a position to serve you.
Thinking about returning to school but don't want to start from scratch? View our Transfer-In Credits Guide*