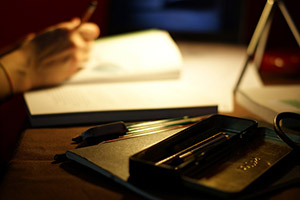 As of September 2014, the unemployment rate dropped to 5.9 percent, leaving 9.3 million unemployed persons. Meanwhile, the Bureau of Labor Statistics reports 4.8 million job openings, which means there are about two job seekers per opening. While the level of competition may seem low, the job market clearly reveals you're not alone in your job search. What sets you apart from the competition?
For some, it could be a degree. Employers may look for advanced skills and knowledge as the differentiating factor between job candidates. But that's not all. According to a recent CareerBuilder survey, employers are also looking for critical soft skills like dependability and the ability to manage multiple priorities. Earning a college degree not only enhances your subject matter knowledge, but the experience requires commitment, dependability and time management, all skills you can apply to the workplace.
What's more, the National Center of Education Statistics (NCES) reports that the unemployment rate for those without a bachelor's degree was generally higher than those with at least a bachelor's degree. Advanced degree holders may also have higher earning power, according to the Bureau of Labor Statistics.
But how do these facts help you decide whether it's right for you to go back to school?
The decision to pursue your degree is a highly personal one. Ask around and you'll likely discover there are some who whole-heartedly support your decision to return to school, while others won't see the benefit of it. The bottom-line is it's a personal choice and one way to figure out if going back to school is right for you is to first determine your readiness with three simple questions.
3 Critical Questions to Ask Before Returning to School
Where do you want to be?
You may be thinking about college because you're bored in your current job and you want to find a way to reignite your passion. That could mean pursuing a promotion that may require an advanced degree, or it could mean changing your career trajectory completely and pursuing a totally new line of work. Whatever your reason, figure out what you want to accomplish in your career. Having clarity about your career goals can help you decide whether going back to school makes sense, and if so, can help you determine the degree program that will best serve your goals.
Are you committed and motivated?
Earning your college degree is big undertaking. You'll need the commitment and drive to adjust your normal routine and complete a rigorous course of study over the course of several months or years. This isn't meant to scare you, but to provide a candid view of college life, especially as a working professional. To succeed in college, you will need to be self-motivated and have strong time management skills. Fortunately, many universities make it possible for busy professionals to easily integrate school into their existing schedules with flexible learning options, including online courses and compressed semesters.
How will you pay for college?
School can be expensive, but there are plenty of financial aid and scholarship resources to help you manage the financial investment. If you think you'll need financial assistance, student loans might not be your only option. If you're an active or retired military member, you may be eligible for educational allowances that cover the majority of your college expenses. Also, check with your employer to find out if they offer any type of tuition reimbursement. Finally, Federal Student Aid provides grants, loans and work-study funds for college, to those who qualify. To determine your eligibility, submit a FAFSA online.
Once you've decided that college is the right move, follow these steps to choose the degree program and college that can help you achieve your goals:
Connect with professionals with degrees. Talk to co-workers and others in your professional network that have returned to school to learn more about their experience, and also gain best-practice tips for success.
Talk to admission advisors, program faculty and alumni. Get a big picture view of the university your considering to get a better sense of what you'll learn and how the a degree can help your career.
Plan your time. Even before you start school, begin to imagine how you will spend your time. Will you devote lunch breaks to reading materials and weekend mornings to writing papers and complete assignments? Make a plan so you're prepared for the challenge.
Develop your support network. School is a big commitment, especially if you have a job, a family and a social life. It's important to communicate your goals to others and discuss the short-term sacrifices you may need to make to accommodate school.
One Final Tip
Whether you decide to return to school or defer it for the future, don't underestimate the value of your professional network. An essential part of your career success depends on the people you know – not just for job referrals, but also to gain fresh insights and perspectives across a variety of professions and industries. The benefit of returning to school while you're a working professional is the ability to naturally grow your professional network as you get to know classmates and professors. Those relationships can support you during your degree program, and can offer long lasting benefits well after you graduate.