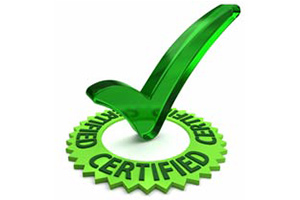 By Emad Rahim, DM, PMP
A few years ago, one of my childhood friends decided to drop out of college and move to Maryland to pursue A+ and Cisco certifications. As an advocate for higher education, I immediately objected to his decision. At the time, he was attending Rochester Institute of Technology (RIT) majoring in computer science and was doing pretty well in his studies. I thought he was crazy to leave a well-respected technology university to pursue IT certification. But, he was pretty adamant with his decision and ignored my opinion. About one year later, after obtaining his A+ and Cisco certifications he was hired by Time Warner/ Road Runner to manage their Troubleshooting Department in the Maryland area. His accomplishments made me realize the importance of being certified in many of today's industries.
I'm not suggesting that a six- or twelve-month certification program will benefit you more or serve as a substitute for a college degree. However, college graduates do need to consider how they will distinguish themselves from thousands of other graduates competing in the job market. Unless you are fortunate enough to attend a Top-Ranking MBA program like Harvard, Stanford or MIT; and complete an internship at a high-profile company, there is a chance that your academic accomplishments could be overlooked by employers. Adding an industry-recognized credential to your resume could impact your marketability and augment what you learn at a university.
Here are other ways a certification* could help you in your field of study or desired career:
Certification can show industry-relevant knowledge
Certifications are not a new phenomenon – eight in ten human resource professionals believe IT certifications will grow in both importance and usefulness between 2011 and 20131. In fact, you will likely find a certification available within every type of business industry. To an employer, a certification can suggest that your level of understanding on a subject or product meets, or exceeds, standard requirements. It can serve to represent specialized knowledge qualified by a respected trade association or institution. Many companies and clients can view certifications as assurance for an individual's capabilities and proficiency. And, to prospective employers, it signals that you possess a standard set of qualifications.
Certification can prove competency and measured aptitude
Obtaining a respected certification is no easy task. Many certification institutions are just as selective as a prestigious university; requiring candidates to first satisfy both educational and professional prerequisites for eligibility to take an exam. Completing a degree, or a course of study, cannot guarantee that a person is eligible to become certified. For business-related certifications like PMP (Project Management Certification), CAE (Certified Association Executive), CBM (Certified Business Manager) and CM (Certified Manager), study materials are developed according to industry-respected standards, research and substantiated through ongoing studies. The exam for these certifications are described as both challenging and comprehensive; focusing on knowledge inherent to the practice of each profession. After earning certification, the learning process is ongoing. Certified professionals must complete continuing education requirements to keep their certification in good standing. These requirements are designed to help certified professionals to stay up-to-date on critical trends and changes related to their trade.
Certification can increase confidence and effectiveness
Many professionals find accomplishing certification very rewarding. Depending upon the unique circumstances of each individual, certified professionals report an ability to use the specialization to pursue career goals. Professionals also credit certification, and the process of obtaining and maintaining credentials, to extending their professional network. Trade associations which operate licenses and certifications often provide opportunities for members to attend conferences, join professional communities and contribute to publications and studies. The Project Management Institute (PMI) and Society for Human Resource Managers (SHRM), for example, operate professional chapters across the country.
Now that I have touched on some of the benefits extra credentials can bring to your career, you're probably wondering what ever happened to my friend. After working for several years in his company's IT department, he decided he wanted to pursue a management position. Despite his years of service, the position still required an undergraduate degree. Luckily, he was able to transfer credits from RIT to complete his undergraduate degree at a Washington, D.C-area university. Now, with a college degree, years of professional experience and several industry-recognized technology certifications under his belt; he has achieved the leadership position he was after.
1. Press Release: IT Certifications Grow in Importance in Hiring Process, but Employers Challenged by Evaluation, Validation Issues, CompTIA Study Finds. (Feb. 7, 2011.) Date Accessed: 11/17/17