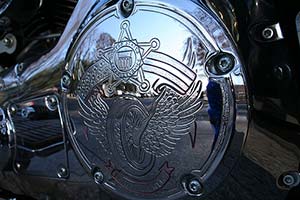 Today, action movies involving terrorist plots and television shows depicting top-secret intelligence operations, like Showtime's hit series "Homeland", are mainstream. The role of heroes and heroines in these stories often contribute to viewers' unrealistic expectations about careers in homeland security. In the post-9/11 landscape, there are vast opportunities for a fulfilling career at federal, state and municipal levels. These roles include TSA agents, immigration and customs enforcement officials, the coast guard, fire and police departments, emergency medical services, emergency planners and many more. There are also private-security jobs, including corporate heads of security, security officers and corporate risk managers.
Many day-to-day responsibilities in a homeland security career include working with clients to create and maintain a safe environment that is protected from threats or disruptions.
Ronald Heil is a 20-year Air Force veteran who has more than a decade of experience in homeland security and crime prevention as a private security consultant. Heil is tasked with various duties in keeping a business or organization safe. For example, he might visit a site or facility and conduct a "threat vulnerability and/or risk assessment," which is an analysis of the protective measures currently in place at that organization, the types of threats it needs to be defending against, and an evaluation of its systems and measures and training employees on the prevention of potential attacks.
Heil is then responsible for providing the client with a list of recommended mitigation measures to improve the organization's programs, which may include installing additional fencing, electronic access control and video surveillance; helping the client write an emergency plan if one isn't already in place; assisting in the obtainment of emergency equipment; and helping the client train armed or unarmed guards. His clients include a wide variety of business and market sectors ranging from chemical plants and factories to hospitals and cultural institutions.
The private sector offers a number of opportunities to protect and serve. The demand for security guards, for example, is expected to increase 12 percent between 2012 and 2022 as private security firms gradually assume some of the roles and responsibilities once belonging to police officers. Those interested in advancing to a managerial level or to roles that require more responsibilities will benefit from the additional training and expertise that come with a degree.
A homeland security career in the private sector requires skills like curiosity, critical thinking, analytical skills, keen powers of observation, and the ability to think on your feet, according to Heil. "Not only do you need analytical skills," he says, "you [also] need the ability to think quickly and calmly, to plan appropriately and to be able to adjust on the fly. That's not necessarily something that somebody is born with, and it takes quite a lot of training in safer environments to get to that point."
Beyond the payoff of working to make the United States a safer place, there may even be some thrilling Carrie Mathison moments that you won't find on any other job description. "I've been almost a thousand feet under an artificial lake," says Heil. "You get to experience a lot of different things."
Homeland security careers extend beyond criminal justice roles, too. If your passion lies more in health care than protection services, there are careers in public health that can safeguard the public from natural and manufactured threats. For instance, epidemiologists investigate the causes of disease and other public health problems to prevent them from spreading or from happening again. They report their findings to public-policy officials and to the general public. Additionally, there are emergency management and planning careers, like emergency and disaster response workers and emergency communications dispatchers and operators, as well as emergency-medical-service coordinators, technicians and paramedics.
A wide array of career opportunities is waiting for those who are passionate about their country and want to serve and protect. From criminal justice positions like TSA agents and immigration and customs enforcement officials, to fire and police departments, emergency medical services and emergency planners, the homeland security field is rife with opportunity.
What influenced the college major you're choosing to pursue?