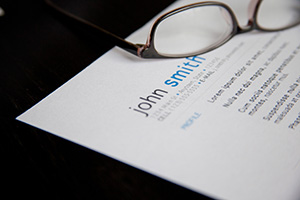 You're working hard to earn your finance degree. While your education may be the cornerstone to a future in the finance industry, it's also important that you look at how to start your finance resume. Now can be the time to build industry understanding and experiences so that your resume stands out from the crowd and you can hopefully impress interviewers not only with your CTU degree, but also with your background in the finance industry.
Here are five ideas on how to start your finance resume:
1. Identify your goal
This sounds obvious, but have you really sat down to figure out what you want to start your finance resume? Now is the time to envision where you would like to be in one year, five years, and 10 years in the future. Defining your goals can make all the difference when it comes to building your resume. If it matters most to you where you live, for instance, research the companies in the region you want to reside to determine what the needs are for finance degrees and tailor your experiences accordingly. If job stability matters the most, then research what financial industries are showing growth and build your experiences and education to meet those requirements.
2. Talk to professionals in your field of choice
You might be surprised at the welcome a professional who receives a phone call or visit from a student interested in his or her line of work will give. Come prepared with questions. Ask about the career path he or she took, what advice they can give you, what he or she wished they had done differently. Ask what they think the future of the industry is headed and what entry-level jobs he or she would consider in your position. Follow up with a thank you note for the time given to you. Make a good impression and you might find a lasting mentor relationship, or be top of mind when a job or internship opens at their company.
3. Take advantage of internships in your field of study
Reach out to professors or look on job and company websites to track down internship opportunities. The benefits of an internship can be enormous: Internships can give you a leg up on your classmates when it comes to building a resume that stands out, and many companies will go on to hire interns if they're impressed with their work. An internship related to your field of study can also help you determine if, in fact, the specialization you are pursuing is the right one for you.
4. Work long-term at a bank or other financial institution
While an internship is generally a short-lived (and notoriously underpaid!) experience, taking on an entry level job in the finance field while earning your degree can build your experience and resume, and pay bills. Entry-level jobs like bank teller, bookkeeper, cashier and bill collector are all examples of work that gives you finance industry experience without requiring a degree.
5. Write a strong resume and cover letter
Finding a job in your industry of choice can feel like a full-time job in and of itself. Each application will require you to write a personalized cover letter, change your resume to meet the needs of a specific job, and stay organized so that you can follow up as needed. Save yourself time by writing boilerplate cover letters so you don't have to start from scratch every time, and make sure your resume summarizes your specific qualifications and emphasizes your accomplishments and can be quickly updated as needed. Follow up positive recommendations with thank you notes, and ask professors or mentors to review your boilerplate cover letter and resume to suggest changes and additions. Having trouble?
Reach out to Colorado Technical University's Career Services Team more information.
Learn more about how to receive credit for prior experience, check out our Fast Track™ program.
---