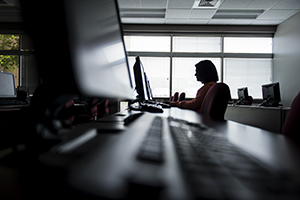 A WORD FROM OUR DEAN
A Field in Demand
Information technology (IT) drives everything we do in business and society. IT has created a 24 hour a day, 365 days a year working environment. This focus has created increased demand for IT professionals1who must not only have technical knowledge but understand business strategy and operations.2 Professionals need to understand big data analytics, cloud computing, virtualization, mobile computing, and other emerging technologies. According to officials at the Partnership for a New American Economy, "U.S. companies are hungry for talent with degrees in STEM [Science, Technology, Math, and Engineering]–these jobs are increasing three times faster than jobs in the rest of the economy.3 We, as a society, are not graduating enough qualified IT professionals to handle all the opportunities available.
IT leaders are needed who can handle the global enterprise as in the role of CIO, CTO or CISO. These leaders must reduce the enterprise costs across the virtual value chain, develop products and new businesses that increase revenue, and keep their eye on the ball of the changing competitive landscape. This has driven the need for IT leaders to shift into other positions such as COO or CEO.
Evolving IT Leadership Roles: CISO and CIO
Security is a major concern of CEO's in all organizations putting significant pressure on the security staff. Many organizations reacted by escalating the top security position to a C level. The Chief Information Security Officer (CISO) is the major driver of business aligned security policy, practices and overall security strategy along with extreme focus on the IT risk management strategy. While the CISO focuses on security the CIO role is very much aligned with operations and business strategy. Educated IT professionals with leadership skills are needed to meet the demands in this evolving field.
Distinction Through Education
At one time it was accepted that the IT professional was self-taught and learned on the job. Today the climate has changed where Bachelor degrees are required and in some instances Master's degrees are preferred for management positions. The IT professional needs to manage not only tangible technology but intangibles such as enterprise software, project management, supply chain management. The IT professional must be able to manage people, processes, and technology introduction and adoption. A formal educational environment that offers exposure to experienced professionals who bring real-world knowledge to tackle the hard-hitting problems of today and tomorrow is essential for IT professionals looking to distinguish themselves.
CTU
CTU's Bachelor of Science in IT (BSIT) integrates not only a strong general education program but core courses that introduce the student to all aspects and disciplines in IT. The BSIT can be formulated into multiple concentrations giving students a very broad IT program customized for their interest. Students interested in a concentration can focus on Network Management, Security or Software Systems Engineering.
CTU's Master of Science in Information technology is the natural follow-up to a superior BSIT program. CTU's relevant curriculum supported by industry advisory boards and focused program committees includes our innovative Learning Management System, My Unique Student Experience (M.U.S.E).
Read more about careers in the ever-changing fields of Information Technology and Computer Science in our new guide.
Dr. Myles Vogel, University Dean, IT, Computer Science and Engineering. Dr. Myles Vogel served more than 25 years as chief information officer for a variety of domestic and international firms. He has taught IT courses for more than 17 years and was named the "Outstanding IT professor of the Year" at the Carey Business School in 2007. Follow Online @CTUTech.
---
1. "Foote IT News Analysis – Technology employment trends in the March 2013 Bureau of Labor Statistics United States Employment Report." Foote Partners LLC. 7 April 2013. Web. (Visited 6 June 2013). http://www.footepartners.com/fp_pdf/FooteAnalysis_DOLMAR2013LaborReport_04072013.pdf
2. "IT Professionals need business skills: CBA CIO." Spandas Lui, ZDNet. 8 Oct. 2012. Web. (Visited 19 Sep. 2013). http://www.zdnet.com/it-professionals-need-business-skills-cba-cio-7000005357
3. "U.S. Tech Worker Shortage Looms, Study Warns." Paul McDougall, Information Week. 23 May 2012. Web. (Visited 13 Sep. 2013). http://www.informationweek.com/global-cio/outsourcing/us-tech-worker-shortage-looms-study-warn/240000853