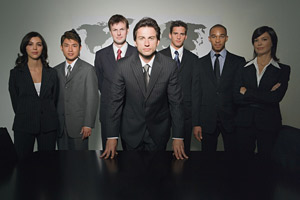 By CTU Faculty
The position of Chief Information Officer (CIO) was probably coined in the early 1990s. As the millennium drew closer, the CIO role became more important. After all, the CIO had, at that time, a responsibility to ensure the firm's information systems were millennium compliant. During this period, firms spent billions of dollars on Enterprise Resource Planning (ERP), Customer Resource Management (CRM) and Supply Chain Management (SCM) systems. These implementations had mixed reviews as it was difficult to stop if over budget since the deadline was real and could not be moved. As a result, some found CIO meant "career is over."
After the so-called millennium crisis, firms started to pay more attention to the impact IT departments could make not just on keeping the firms running but on the ability of IT to integrate the firms more efficiently and effectively and to enable improvement in the firms' overall performances. The CIO and IT moved closer to making a difference.
Many leading firms began to see the CIO as the "Chief Innovation Officer," or as the leader and driver of change and innovation, making it critical for IT professionals to possess strategic problem solving skills and business acumen, as well as a solid IT foundation. These firms focused on the integration of the overall virtual value chain to reduce costs by eliminating non-value-added/redundant processes through IT. The CIO was now becoming a sort of hyper experienced rock star with major processes and functions highly dependent on IT not as a utility, enabler or integrator but as the driver of Sustainable Competitive Advantage (SCA).
Firms such as Wal-Mart focused for decades on IT and its ability to drive change in its supply chain, including logistics, distribution and inventory management. Dell drives the efficiency of its direct model and superior SCM via highly integrated IT systems. Amazon has moved from being a book distribution firm to a leader in cloud computing.
Today, the top firms in each sector utilize IT to fine-tune their internal operations and virtual value/supply chain, which has evolved into an Internal Capabilities Engine (I.C.E) that is rare and cannot be duplicated to supply these firms with a SCA. The CIOs in these firms are the catalysts to drive people, processes and technology into an unbeatable combination that results in reducing costs via I.C.E. and in being recognized by customers, suppliers and competitors as having a SCA that increases revenue.
The CIO today must take a holistic approach to SCA, utilizing a whole system to drive people, processes and technology. Infrastructure, systems/process integrations, business intelligence and innovation/change must now become major focuses for the CIO.
The CIO must be concerned about the infrastructure that runs the firm. While infrastructure was once treated as a utility, it is now an integral part of I.C.E. (and therefore impacts SCA) and an integral part of strategy. The IT systems under the CIO's responsibility include the major conduits for interaction, collaboration and integration with the virtual world we live in.
Additionally, the extraction of raw data from transaction processing systems, which has no meaning or content on its own, must be converted into insightful information via business-intelligence systems and then processed into actionable knowledge in order to become critical for generating revenue and increasing customer value and insight. Again, this process is driven by the CIO and IT.
All this leads to innovation that focuses on IT output (efficiency and cost reduction) and IT outcomes (effectiveness and increased revenue). The obvious result is increased profitability.
CIOs have now become in many IT-driven organizations the Chief Operating Officers or Chief Executive Officers, and they have a significant number of years, experience, and training in the field.
Where does your firm stand in this drive for SCA, and what roles do the CIO and IT play?
Read CTU's Career Guide to learn about important skills for an IT career, how to stay on top in the IT industry and much more.