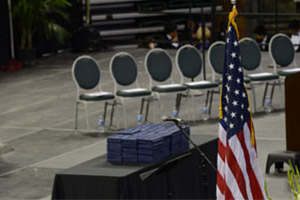 Leaving the military is daunting for many reasons. If you're a veteran, you might be wondering what your next step should be. Go right to work? Get a degree? Take some time off? Re-enlist? Only you can make the right choice for yourself, but before you decide, think about the benefits of continuing your education.
Here are four reasons why getting a degree can be a smart move.
1. Tuition May Be Included in Your Benefits
The U.S. Veterans Benefits Administration offers seven programs for veterans' education. The largest and most comprehensive is the Post-9/11 GI Bill, which went into effect in 2009. The bill gives qualified veterans the opportunity to attend school full-time for 36 months (a benefit they can use within a 15-year window). Also included are tuition and fees, a monthly housing allowance and a stipend for books and supplies.
Veterans might now be looking to claim their benefits. According to the VBA's Annual Benefits Report for 2011 (the most recent data available), in fiscal year 2009, the bill had 34,393 beneficiaries. That number leapt to 365,640 the next year, and 555,329 the year after that.
2. An Education Can Help You Build on Your Military Background
You might be thinking, "Nothing I did over there could possibly apply here." But that's actually far from true. Your military training and experience can serve you in a wide variety of civilian careers. The skills active-duty personnel rely on every day—think leadership, teamwork, communication and critical thinking—can help in any number of industries and academic disciplines.
Military personnel also often have exposure to the most advanced technology that exists, which is valuable in today's tech-driven world. Information technology is a growing sector, with faster-than-average growth* projected for many IT occupations, such as software development, systems administration, security analysis and database administration, to name a few.
Your military background might also serve as excellent preparation for a career in the field of criminal justice security, or corrections. You're already used to working within a chain of command, and if you've handled combat, you're well prepared to keep order during the many tense situations officers face.
3. A Degree Can Be an Asset in a Tight Job Market
This year alone, 34,000 troops will return from Afghanistan. That's not counting other military personnel returning home from other locations throughout the world.
That means veterans are flooding what many say is still a challenging job market, despite improvement after the recession. Fortunately, a degree can be a buffer in a tight labor market. In the recent recession, those with college degrees fared better than those without, according to a report from the Pew Charitable Trusts. "Higher education is one of the key factors driving upward mobility in the United States," said Diana Elliott, research manager of Pew's Economic Mobility Project. "Even under the pressures of the most recent economic downturn, a four-year college degree provided protection in the labor market for recent college graduates."
4. A Degree Can Take Your Life in a New Direction
As a veteran, you have experienced more than some people will in a lifetime. When many people are deciding what they want to do with their lives, you have the opportunity to begin a second phase as you re-enter the civilian working world. So if you've always wanted to change direction and try something new, an education could be the first step.