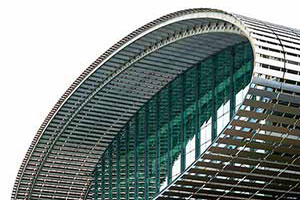 Students pursuing a BS Business Administration with a concentration in Human Resources Management at CTU already receive industry-driven learning that helps them meet today's business challenges. With the degree's recent alignment with the Society for Human Resource Management's (SHRM) HR Curriculum Guidebook and Templates, students now experience even greater relevancy to tackle real-world HR issues. Last year, SHRM acknowledged CTU's MBA program for its alignment with graduate-level HR content, which now extends to the undergraduate program.
Why SHRM Alignment Matters
SHRM is the world's largest professional association devoted to human resource management and is the recognized authority in the field. CTU's alignment with SHRM offers students:
Improved relevancy.

The HR Curriculum Guidebook and Templates were developed by SHRM to define the minimum HR content areas that should be studied by HR students at the undergraduate and graduate levels. It is based on real-world scenarios and current industry research, which ensures students receive the knowledge and skills needed in today's HR environment.

Increased credibility.

The guidelines are part of SHRM's Academic Initiative to define HR education standards taught in university business schools and help universities develop degree programs that follow these standards. Throughout the world, 313 programs in 236 educational institutions have been acknowledged by SHRM as being in alignment with its suggested guides and templates, making CTU one of only a handful of universities world-wide to use SHRM's recommended content.
"The results of the alignment recommendation were derived from using multiple quantitative and qualitative research methods, which included SHRM HR curriculum guidebook and templates. The assessment and evaluation process works similar to a programmatic accreditation review. Earning full alignment of a degree program assures the student and employer that our curriculum and content are up to date and mirror industry standards," says Dr. Emad Rahim, CTU's University Dean of Business and Management.
In addition, alignment with SHRM means CTU is recognized a registered provider of HR Management courses - hours may qualify for those seeking or maintaining their Professional in Human Resources (PHR®) certification* through the HR Certification Institute (HRCI).
*CTU does not guarantee third-party certifications. Certification requirements for taking and passing certification examinations are not controlled by CTU but by outside agencies and are subject to change by the agencies without notice to CTU. Therefore, CTU cannot guarantee that graduates will be eligible to take certification examinations, regardless of their eligibility status upon enrollment.