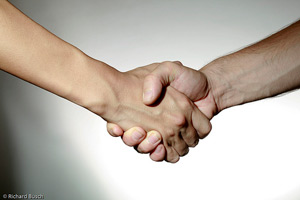 Your friends and family anticipate, along with you, the moment you walk across the stage and hear your name called to receive your Master of Business Administration (MBA) degree. You're excited about your future, or perhaps a little anxious, and certainly relieved that your hard work has been rewarded. What comes next?
The world of work and that long-awaited career opportunity or promotion is approaching soon, you hope. You've made the educational, not to mention financial, investment and can now market your skills to potential employers. Here are 5 ways you can leverage your MBA to achieve your goals:
Begin networking before you graduate.

You've heard this before: Networking is a hugely valuable tool in getting you places faster. Begin developing both social and professional networks even before you graduate, and tap into them continually, engaging your contacts. You can build your profile on sites like LinkedIn and the CTU Alumni Network, and join professional organizations. Attend networking and career events, then network intelligently by building rapport, asking for referrals and recommendations and exchanging beneficial information with those with whom you've made great connections.

Find out where the open doors are.

Thoroughly research, ask around and even present innovative ideas or opportunities to contacts to get them to connect with your vision. You'll eventually see an open door or two, and perhaps even create a new door where there wasn't one previously. Seek out professional advice from human resource consultants who can give insight into current recruitment trends. Also, seek out a mentor who's had the experience of job hunting out of college like you – you'll find someone who can both relate to your experience and encourage you in your efforts.

Build your personal brand.

Employers are interested in your skills, sure, but it may be who you are uniquely that gives you the advantage of them over other candidates. Identify your skill sets and learning experiences, and get a professionally prepared resume that highlights these along with your personal brand. Well-done brand communication attracts potential employers, as it gives them a strong sense of who you are and whether they'd like to work with you. In addition to your educational accomplishments and real-world experiences, it shows that you think creatively and engage others well.

Market yourself innovatively.

Hopping onto an online job board is usually the first step most job seekers take – but that's not very creative. Truly, with the innovations that we see on a daily basis, you, too, should be innovative in your job search. Visibility is everything, and with the cost-efficient and technological marketing tools available to you, it makes sense to put creative effort into marketing your skills. Design professional business cards and consider a professional web page profile. Also remember that each time you engage with your social and professional networks, you're marketing yourself, so find creative topics to discuss that relate to your career goals.

Use advanced job-seeking avenues.

The traditional job seeker may look for opportunities that focus on the position title they seek, however, consider more advanced ways of searching for a job fit. Whether you've got cloudy or sharp focus on the particular role or industry you're looking for, understanding some specific functions you want to do can help propel you in the right direction. Even taking a step back from focusing on your destination career role can help you get better perspective of the actual tasks you want to perform on the job. You may want to become a manager, for example. What tasks that a manager performs interest you? Developing teams, problem-solving or budgeting? Think about where you need to get to, and seek opportunities, including entry-level positions, where you can strongly function in a capacity that will get you closer to your overall goal.
Even before you graduate, it's a good idea to get started on most of these – networking, building your brand and planning for marketing yourself are key these days in getting you closer to advancement faster. Begin showing now what you can do for an employer in the near future.
---
Valerie Vann, D.B.A., received her Doctor of Business Administration from Argosy University Atlanta, and master's and bachelor's degrees in organizational and business management, both from University of Phoenix. She currently serves as University Program Director for the School of Business at Colorado Technical University.