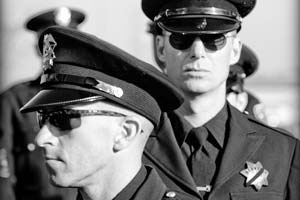 By Ivan Kaminsky, Adjunct Faculty, Criminal Justice
CTU faculty members are not only highly-regard educators, but are also real-world practitioners and subject matter experts. In this blog post, gain the personal perspective of a criminal justice faculty member who is also a member of law enforcement.
I'm often asked, "What does it take to be a cop?" I don't always have a complete answer to offer, mostly because my response has changed over the years. Of course, I could give you the basics: how many many push-ups you have to do, how quickly you must run a mile and a half and how you can't ever have used narcotics or hard drugs. But you could find all this basic information with a quick scan of the agency website that you're interested in joining. So maybe reading about my law enforcement career will give you insight into what it takes to be a cop.
I went through a live-in police academy in 1995. To graduate, I had to shine my boots, march in a line, shoot a still target and make my bed "just so." Then I spent four months in a field training officer (FTO) program where I had to learn departmental policies, how to navigate my city and how to keep my training officer happy. Since I was assigned new training officer every two weeks, I learned how to be very, very flexible.
Through my career as a patrol officer, I learned the finer points of the law, which really meant learning how to think quickly on my feet, how to fight and how to talk people out of fighting. In 2001, I was promoted to detective, working with child sex crime victims for a short time before going into my current assignment as a robbery and homicide detective. My career taught me that being a cop takes:
Good communication: As a sex crimes detective I had to learn how to talk to young kids and teenagers in ways and about topics I never imagined possible.
Empathy: I discovered the biggest threat to a child is people who are supposed to take care of them. I also realized that spouses would often lie to protect a child molester.
Trust and integrity: As a robbery detective I learned to build rapport with informants so I could get what I needed to solve a case. I also how to process crime scenes.
Compassion: As a homicide detective I learned how to cry with the victim families and to never give up on a case no matter how many years have gone by.
Perseverance and follow-through: I learned the importance of "ownership" in a case and seeing cases all the way through to prosecution and sentencing.
Sure, along the way I learned lots of other, more technical things, but I really think if you are asking yourself if you have what it takes to be a cop, it poses many more questions. For instance:
Can you pull the trigger and potentially end one life to save another?
Can you work long and odd hours, be criticized and hated by some and not respected by many?
Can you lie to a suspect in an interrogation room and tell him you understand why he molested his girlfriend's four-year-old daughter?
Can you look a mother in the eye and tell her that her son did not suffer during his death?
The answer to these difficult questions comes from within and not from any other person or source.
Last week I visited The National Law Enforcement Officers Memorial in Washington D.C. where I saw the names of six friends who were killed during my career. These were honorable men and women who gave their lives to protect others. It was a somber experience that also gave me hope because I realized that we are each capable of great things when we rise to meet the challenge. There is no other job I know of that will challenge you, give your life meaning and offer you the chance to truly "protect and serve" others, than that of a police officer.
I hope many of you reading this decide to find out if you have what it takes to be a cop. A law enforcement career goes so very quickly and there are a lot of us old guys that will need to be replaced in the future.

Ivan Kaminsky is an adjunct instructor in the Criminal Justice program at Colorado Technical University. A detective with the Chandler, AZ police department, he holds a variety of professional memberships and certifications in investigative techniques and tactics. He holds his undergraduate degree from Arizona State University and his M.S. degree in educational leadership from Northern Arizona University.