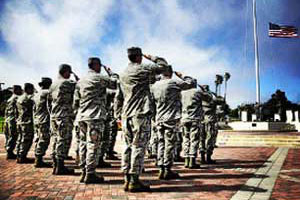 By CTU Faculty
"Military Friendly School" has become an overused and frequently empty promise. As a service member or veteran researching colleges you may wonder if this is simply a marketing phrase and if the term means anything at all. When it comes to defining "Military Friendly", actions speak louder than words.
A Military friendly school is defined by the choices or actions it makes to support military, veteran or spouse students. These actions become an important indicator of what you should expect from the school as a service-member or veteran. These actions can impact the length of time you will be in school and how much it will cost. They could also influence how much time you should expect to spend on administrative tasks like obtaining veterans benefits or receiving an exemption from rules designed for traditional, young adult, students. These actions will also indicate if the school is prepared to accommodate your military duty in the event that you have to leave school for a deployment or training. The definition, "Military Friendly" really is an important differentiator when there are concrete actions applied to support it.
Transfer-in Credit
As a military or veteran student you should ensure that a college or university will accept your prior eligible college course work in transfer-in credits. Be sure to verify that the school will consider applicable credits for military training. The American Council on Education provides easy to use assessments of military training and recommends what courses the training can transfer into. Transfer-in credit will ultimately determine how long you will be in school and how much you will spend. Transfer-in credit is an incredibly important consideration and should not be overlooked.
Adult-focused
You should also consider if the school's policies accommodate your adult lifestyle. A school must to be prepared to waive policies that are designed for typical students directly out of high school. A military friendly school will recognize veterans as adults and be prepared to accommodate your career and family responsibilities. Some schools require all underclassmen to live in dorms and do not allow cars on campus. Many require students to provide their parents' financial information in order to be considered for grants and require current SAT or ACT test scores for admissions. These policies and others like them should be waived without argument for veterans who are accustomed to managing their lives and finances after serving in the military.
Schedule Accommodations
Ask up front what the school will do to accommodate military training, deployments or temporary duty assignments. Will they allow you to leave without penalty or cost? Will you be allowed to return to classes without having to re-apply as a new student? Does the school offer distance learning options or online courses?
Military Associations
Consider what associations the school belongs to. Are they members of Servicemember Opportunity Colleges? Are they eligible to receive Tuition Assistance or the GI Bill and do they contribute to the Yellow Ribbon Program? Are they in the VA portal and can they certify your enrollment? Are they in Go Army Ed or the Air Force Portal? The school is not military friendly if they are not eligible to receive your education benefits.
All of these considerations start when the school makes a choice. They choose to support military and veteran students or not. A school's actions rather than their marketing are what ultimately define "Military Friendly".
Click here for a printable check list of 15 considerations when selecting a military friendly school.
How do you define "Military Friendly"?