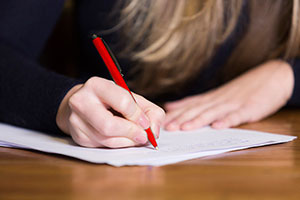 These days following proper etiquette after an interview is just as important as interviewing well. Following up can be a daunting task, especially considering the plethora of mediums available. Common questions include: Is it best to send a personal email or a thank you card? A formal letter or a gift basket? A gift card or a handwritten note? These are all possibilities, but some can send the wrong message, while others seem appropriate. The proper response is dependent upon a few key factors from the interview, and the job itself.
For jobs that have a large online component, an email thanking the interviewer is appropriate. Sending an email further shows the interviewer your inter-personal skills. Be polite and professional, but also brief.
Sending a thank you letter is acceptable for jobs that will require more of a personal touch. Make sure to handwrite your message on stationary, and if you are a design student, feel free to incorporate some personal designs. Penmanship should be as legible as possible. Again, be polite, professional and brief. This should focus on thanking the interviewer for their interest, as well as their time.
A thank you card is appropriate to send after a phone or face to face interview, however, it is considered less personable than a hand-written letter. If you chose to send a thank you card, stay away from pictures of animals, people or objects. A card that simply says "Thank You" on the front is best. Additionally, the inside of the card should be blank. A pre-written message on the inside, no matter how appropriate, does not look professional. Additionally, a blank card gives you room to write a personal thank you note.
At no point is any type of gift deemed appropriate to say thank you after an interview. It does not matter how small, seemingly insignificant or tasteful it may be. At best, it can be considered tactless and unprofessional. At worst, it can be considered bribery. Many companies have very strict rules set around what employees can accept as gifts. If the employee was to accept a gift beyond those restrictions, he or she risks termination. Being mindful of that makes sending a thank you email, a tasteful thank you card, or a handwritten letter a much more attractive option.