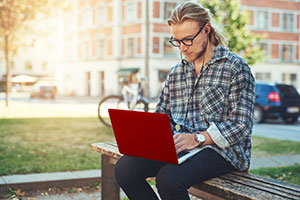 With the advancement of technology, many employers are turning to Skype to interview candidates from a distance. The two most important aspects of a Skype interview are how well the technology is working and how the candidate appears on the screen. If both go well, all the other components of an interview like knowledge, confidence and qualifications apply from that point on.
Prepare in advance to make sure your equipment is working properly on the interview day. If you haven't used Skype before, practice by calling a friend. Chat for a half hour or so to make sure the internet is working quickly enough. A friend who has experience conducting interviews would give the most helpful feedback, but anyone who can give a thoughtful critique is a good choice. Newbies to Skype should practice making and answering a few calls. Make sure to speak to the webcam rather than the image on the screen. Speaking directly to the webcam will give the interviewer the impression you are making eye contact. And you should dial in early on the interview day in case anything goes wrong.
Once the technology end is taken care of, focus on how you will look during the Skype session. Dress as professionally as needed for a normal interview, and wear a shirt or suit jacket that provides some contrast to skin color. Solids look better on camera. Avoid extremely bright colors. For women, wear natural looking make-up with a professional hairstyle. The goal is to look responsible and capable of doing the job, so posture is important—sit up straight and avoid fidgeting. Make sure your face and shoulders are visible in the frame, and position the laptop at a good angle where the view is not pointing downward at you.
Lastly, the area the interviewer can see behind you is important. Ideally it should be clean and organized; a diploma on the wall or anything of that nature cannot hurt. Move anything that looks unprofessional like a movie poster or toys. If other friends or family members are home, make sure they stay quiet and out of sight.
Follow these simple guidelines, and you should be set for an effective Skype interview.
Find more information on this and other services provided as part of Colorado Technical University's Career Services available to students and alumni.