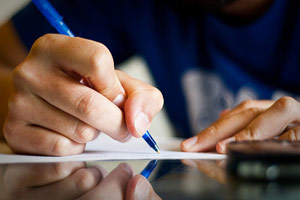 By: Gary Underwood, MBA
CTU Adjunct Faculty, Business and Management
Many students work hard for a 4.0 grade point average (GPA) and failing to achieve it gets them very upset. Sometimes they blame themselves, and other times they place the blame on the instructor who cost them their 4.0.
Stop for a moment and consider GPA from the perspective of a potential employer: How important is it that a candidate boasts a 4.0? Conventional wisdom would tell you the higher the GPA, the better – but is this really true?
According to well-known career coach and blogger Penelope Trunk, the topic of grades rarely – if ever – comes up during interviews with prospective employers. While a high GPA can contribute to students gaining admittance into top-ranked graduate schools, the business world rarely thinks twice about this metric as long as you have at least a three-point-something at minimum. Contrary to popular beliefs, HR generalists say job applicants with GPAs between 3.5 to 3.8 may be a better choice than those with a 4.0. Why? Some question how the perfect GPA was achieved. Was the student really that good? Was it truly earned? Did the program lack sufficient challenge?
Given very few people perform perfectly in all subjects, some less-than A grades are expected. To some, a three-point-something GPA suggests a prospect has proven their ability to work hard to attain the best outcomes they can. Others see the value of the education differently, too. An imperfect GPA could point to sophisticated curriculum or an adaptive learning approach intended to sufficiently challenge each individual student. GPA can also indicate an individual pursued a mix of advanced subjects that resulted in personal growth – not success earned easily. Regardless of your score, the educational story you have to tell is what employers will consider most while interviewing you.
Furthermore, hiring managers rate the combination of "real" work experience with study as highly-valuable traits in today's candidates. Some see a background that includes lessons learned on the job and in the classroom as a sign of a well-rounded person; particularly when that experience includes work done in a team. Most students say balancing practical work with studies is challenging, and often combining the two make maintaining a perfect GPA even more difficult.
In a guest post on Trunk's blog, writer Jon Morrow recounts that his 3.921 GPA cost him many hours of sleep and was the source of significant frustration. In the end, he found that a good deal of what he learned with those extra hours spent studying and researching has never been used in his life; and has already been forgotten. Learn a valuable lesson from Morrow's story: forget the GPA chase. Instead, focus your time learning lessons you will put into practice in your career and networking with professional peers and mentors. Build up your digital identity with online discussions and measure your experience by the ways you are expanding your intellectual capital – not a four-point scale. Your education is about the journey and the imperfections along the way are what will make you wise, resourceful, and an asset to your employer.
The takeaway: try not to dwell on that 4.0 average. The fact that you are earning your degree at all is the bigger accomplishment.
Agree or disagree? Share your perspective in the comments or with @CTUniversity on Twitter.

Gary Underwood is an adjunct instructor in CTU's College of Business and Management. He spent the majority of his career as a manager in the telecommunications industry and earned his undergraduate and Executive MBA degrees online at CTU.